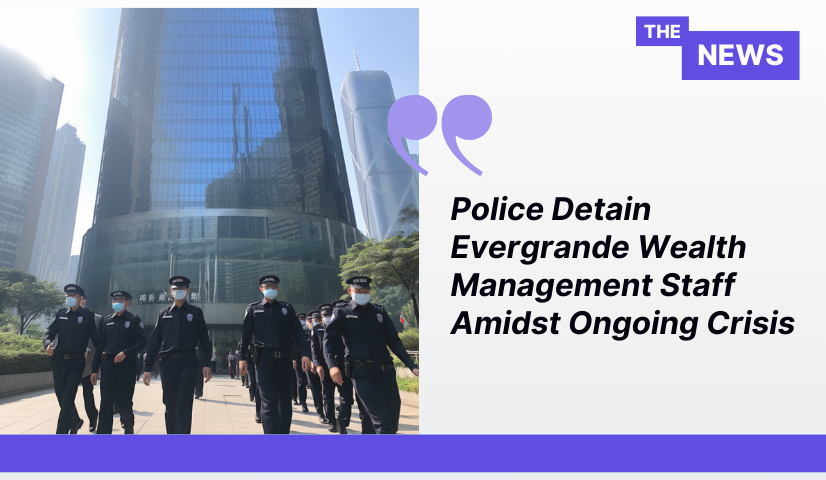 Key Takeaways

Police in southern China have detained individuals associated with China Evergrande Group's wealth management division, potentially signaling a new investigation into the embattled property conglomerate.
The police statement did not specify the number of individuals detained, the charges they face, or the date of their detention, leaving key details unanswered.
Detention of Evergrande Wealth Management Staff
Amidst the ongoing crisis surrounding China Evergrande Group, police in southern China have taken action against some individuals connected to Evergrande's wealth management unit. In a statement issued on Saturday night, Shenzhen city police revealed that they had imposed "criminal compulsory measures" on Du and other suspected individuals at Evergrande Financial Wealth Management Co.
Uncertainty Surrounding Detentions
Although staff identified Du Liang as the general manager and legal representative of Evergrande's wealth management division during investor protests at the company's Shenzhen headquarters in 2021, it remains unclear whether Du was among those detained. The police statement lacked critical details, including the number of individuals detained, the specific charges brought against them, and the date of their apprehension.
Evergrande's Response and Ongoing Investigation
China Evergrande Group has yet to respond to the recent developments. The investigation into its financial management unit remains active, with authorities encouraging investors to report any further financial crimes. Evergrande, recognized as the world's most indebted property developer, has been at the epicenter of a crisis in China's property sector. This crisis has been characterized by a series of debt defaults since late 2021, exerting significant pressure on the growth of China's economy, the world's second-largest.
Debt Restructuring and Moody's Outlook
Evergrande has been undergoing a lengthy debt restructuring process, which has involved divestment of various assets. The company recently announced a delay in the decision regarding offshore debt restructuring, pushing the decision from September to the following month. Evergrande's stock trading had been suspended for 17 months until August 28. Moody's, in response to the challenges in China's property sector, revised its outlook for the sector from stable to negative, citing economic difficulties expected to impact sales despite government support.
The detention of Evergrande's wealth management staff adds another layer of complexity to the ongoing crisis surrounding the property giant, which continues to capture global attention due to its significant financial and economic implications.