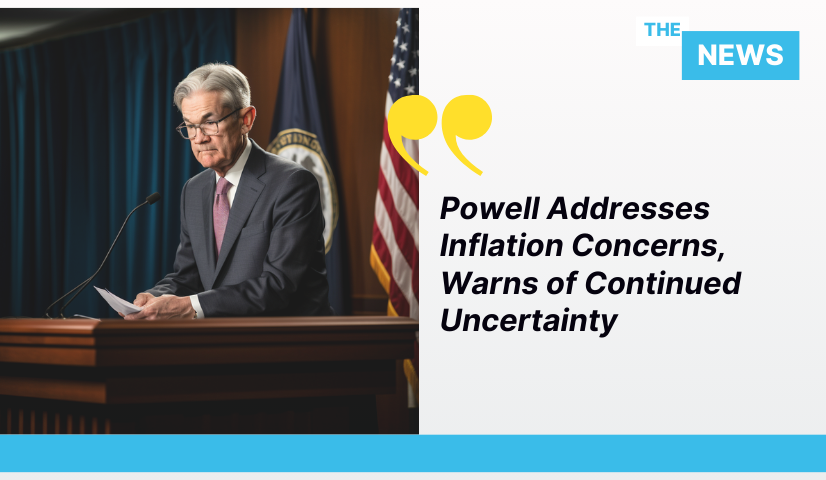 Key Takeaways

Powell notes the Federal Reserve's commitment to achieving a policy stance restrictive enough to bring inflation down but expresses uncertainty about the current level.
Despite progress, Powell warns of the long journey ahead in sustainingably reducing inflation to 2%, emphasizing the Fed's cautious approach and openness to further policy adjustments.
Optimism Amid Uncertainty
Federal Reserve Chairman Jerome Powell, in a speech at an International Monetary Fund event, expressed encouragement about the deceleration of inflation but highlighted lingering uncertainties regarding the effectiveness of current policy measures. Powell emphasized the Federal Open Market Committee's commitment to achieving a sufficiently restrictive monetary policy to bring inflation down to the target of 2%. However, he acknowledged a need for more confidence in achieving this stance and suggested that more work may be needed.
Inflation Progress and Policy Challenges
Despite ongoing uncertainties, Powell acknowledged progress in the battle against high inflation. The committee has implemented 11 rate hikes, constituting the most aggressive policy tightening since the early 1980s, with the benchmark rate now in the range of 5.25%-5.5%. Powell noted that the core personal consumption expenditures price index has fallen to an annual rate of 3.7%, down from 5.3% in February 2022. While inflation remains above the target, the improvement is notable.
Powell cautioned that the policy remains "significantly restrictive." More effort is required to bring inflation down to 2% sustainably. Despite progress, he stressed the long journey ahead and the need to carefully evaluate whether rates should go higher and for how long they should stay elevated. The cautious approach aims to balance the risks of misinterpreting short-term data and avoiding overtightening.
Market Reaction and Future Expectations
Following Powell's speech, stock markets experienced a decline, with the Dow Jones Industrial Average down nearly 200 points. Powell's warning to investors about potential rate hikes impacted market sentiment. While markets have largely priced in the expectation that the Fed has concluded its rate hikes, Powell's caution signals that the central bank remains attentive to economic dynamics.
Powell provided an overview of the economy, highlighting the "remarkable" performance in 2023 despite earlier predictions of an impending recession. The Gross Domestic Product (GDP) accelerated at a robust 4.9% annualized pace in the third quarter. Powell acknowledged low unemployment but noted a slight rise in the jobless rate this year. He highlighted the Fed's attentiveness to unexpected economic strength that could challenge the fight against inflation and trigger a policy response.
Supply Chain Improvements and Monetary Policy Impact
The Fed Chair recognized improvements in supply chains as contributors to easing inflation pressures. However, he expressed uncertainty about the extent of further progress through supply-side enhancements. Powell suggested that a more substantial reduction in inflation might require tight monetary policy to control aggregate demand growth.
Powell's remarks are part of a broader presentation, addressing challenges in anchoring rates near zero. He highlighted the ongoing uncertainty regarding whether zero-rate challenges are a thing of the past, emphasizing that it is "too soon" to make conclusive statements about this aspect of monetary policy.