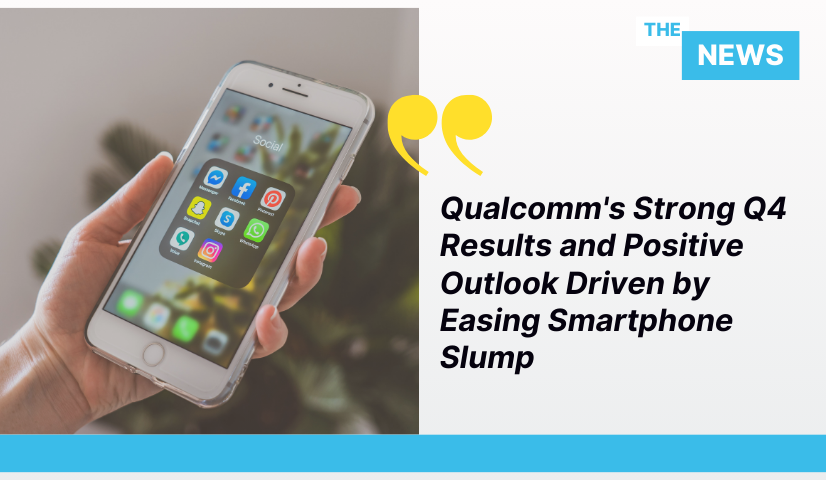 Key Takeaways

Qualcomm forecasts Q1 sales and profits above market expectations, with smartphone sales recovery, particularly in China, and the Apple contract renewal as key drivers.
The company sees increased demand from Chinese smartphone manufacturers and expects a positive impact from its ongoing relationship with Apple.
Qualcomm's Optimistic Projections Amid Smartphone Sales Recovery
Chip designer Qualcomm reported better-than-expected results for its fiscal fourth quarter, and it has set an optimistic tone for the coming months. The San Diego-based company, known for its contributions to the smartphone industry, is anticipating an upturn in its fortunes as the global smartphone market shows signs of revival.
Qualcomm's fiscal fourth-quarter results revealed sales of $8.67 billion, surpassing analyst estimates of $8.51 billion. The company's adjusted profits stood at $2.02 per share, exceeding expectations of $1.91 per share, according to data from LSEG. These impressive figures indicate Qualcomm's resilience and adaptability in a competitive market.
Easing Inventory Concerns and Fresh Orders
In a conference call with investors, Qualcomm's Chief Executive, Cristiano Amon, shared insights into the company's positive outlook. He noted that smartphone companies have largely addressed their inventory concerns and are now placing new orders. This development marks a pivotal moment for Qualcomm as it suggests that the inventory challenges within the Android business, which had previously affected the company, are receding.
Strong Demand from Chinese Smartphone Manufacturers
Qualcomm's relationship with Chinese smartphone companies is strengthening, with Chief Financial Officer Akash Palkhiwala estimating a 35% quarter-over-quarter increase in sales to Chinese smartphone customers. The company anticipates that Chinese OEMs will continue to rely on Qualcomm's offerings, despite the re-entry of Huawei into the market.
Key Partnerships and Market Expansion
The recent renewal of Qualcomm's supply agreement with Apple, extending until 2026, has significantly bolstered the company's position in the market. Additionally, Qualcomm is embarking on a renewed venture into the laptop market with support from Microsoft. These strategic collaborations provide Qualcomm with an extended reach and influence in the tech industry.
Despite concerns over the smartphone market, data reveals that global smartphone shipments declined only 0.1% in the quarter ending September. This resilience can be attributed to strong demand in emerging markets and a robust premium phone market. Qualcomm's positive outlook is aligned with this broader trend of recovery in the consumer electronics market.
Solid Q4 Results and Upcoming Opportunities
Qualcomm's chip unit reported sales of $7.4 billion in the fourth quarter, surpassing analysts' estimates. The automotive chip segment also performed well, with sales reaching $535 million, signifying a 24% increase for fiscal 2023. These results indicate Qualcomm's ability to seize opportunities and adapt to changing market dynamics.
In summary, Qualcomm's Q4 results and positive projections for Q1 demonstrate its resilience and adaptability in a highly competitive tech landscape. With renewed contracts and stronger partnerships, the company is well-positioned to capitalize on the recovery of the global smartphone market.