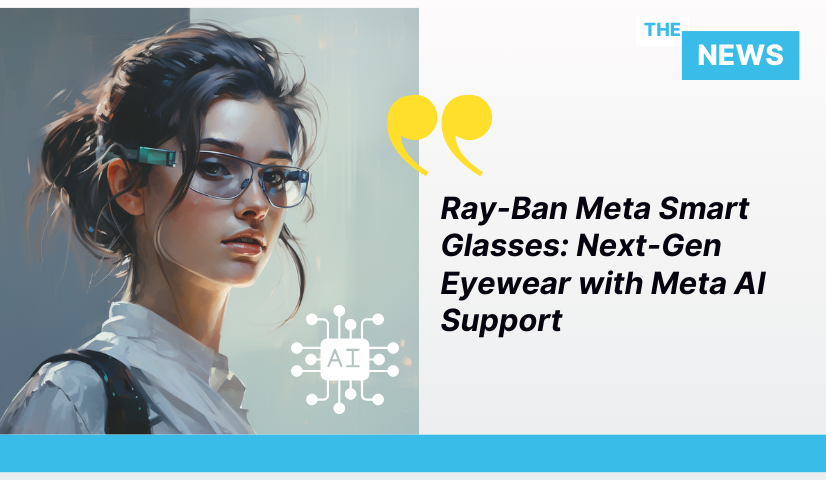 Key Takeaways
Meta and EssilorLuxottica reveal the new Ray-Ban Meta Smart Glasses with advanced camera capabilities and Meta AI support.
These smart glasses feature a 12-megapixel camera, live-streaming to social media, concealed speakers, and Qualcomm Snapdragon AR1 Gen1 chipset.
Meta, in partnership with EssilorLuxottica, introduces the Ray-Ban Meta Smart Glasses, setting a new standard in smart eyewear technology. These glasses promise an upgraded user experience with improved camera capabilities and support for Meta AI.
Enhanced Camera Features and Superior Audio Experience
The Ray-Ban Meta Smart Glasses are equipped with an ultra-wide 12-megapixel camera, ensuring high-quality photos and the ability to record 60-second 1080p videos. Users can also live-stream their perspective directly to Instagram and Facebook, enhancing the way they share moments.
With concealed speakers, these smart glasses offer an immersive audio experience. Users can enjoy their favorite music and engage in clear voice calls, even in noisy or windy conditions. The combination of audio and visual capabilities makes these glasses versatile for various scenarios.
Powered by Qualcomm Snapdragon AR1 Gen1
Under the hood, the Ray-Ban Meta Smart Glasses feature the Qualcomm Snapdragon AR1 Gen1 chipset. This advanced chipset enables the processing of higher-quality photos and videos, ensuring that users can capture every detail of their experiences.
Meta and EssilorLuxottica have prioritized comfort and convenience in the design of these smart glasses. They have reduced the weight, added an IPX4 waterproof feature for added durability, and included a stylish charging glasses case. This case provides up to 8 additional charges, extending the total usage time to an impressive 36 hours.
One of the standout features of these smart glasses is the integration of Meta AI. Users can control various functions and share content seamlessly using Meta's AI assistant. This addition enhances the overall usability of the glasses and opens up new possibilities for content creation and sharing.
The Ray-Ban Meta Smart Glasses represent a significant leap forward in the world of smart eyewear. With enhanced camera specs, powerful hardware, and Meta AI support, they cater to users' evolving needs for capturing and sharing moments. As these glasses become available for online orders in the United States, Canada, and the United Kingdom, they are poised to reshape the way we experience and document our daily lives.