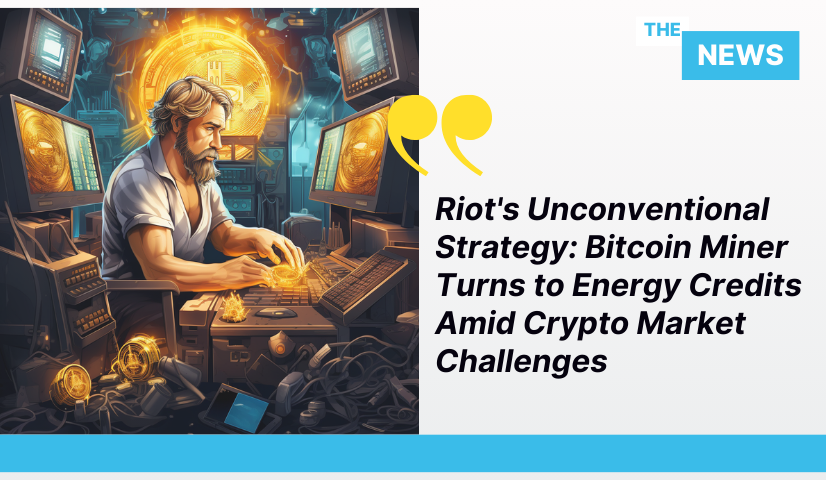 Key Takeaways

Riot Platforms, a Bitcoin miner, earned $31.7 million in energy credits by curtailing energy usage during a heatwave, surpassing the value of the Bitcoin mined in August.
The company's shift in strategy comes as it faces significant losses due to the crypto market's decline, resulting in a net loss of over $500 million in 2022.
Riot Platforms' Novel Approach
Riot Platforms, once a profitable Bitcoin miner during the crypto boom of 2021, is now pursuing an unconventional strategy to navigate the volatile crypto market. The company recently reported earning $31.7 million in energy credits from the Electric Reliability Council of Texas (ERCOT). This surplus was generated by voluntarily reducing energy consumption during an intense heatwave.
Surprisingly, the total value of these energy credits exceeded the value of the Bitcoin mined by Riot in August, which was approximately $8.9 million at month-end. Riot's CEO, Jason Les, emphasized the significance of these credits in reducing the cost of Bitcoin mining, positioning Riot as one of the industry's lowest-cost producers.
Riot's Shifting Fortunes and Bitcoin Miners' Struggles
Riot's journey reflects the turbulent nature of the crypto market. While the company experienced a nearly 8,000% revenue increase in 2021 due to surging demand for Bitcoin, 2022 saw a sharp reversal, resulting in a net loss of over $500 million for the year. In the most recent quarter, Riot reported a loss of $27.7 million.
Despite these challenges, Bitcoin's recovery in 2023 has driven a 230% increase in Riot's stock value, closing at $11.24 as of Wednesday. However, this remains significantly below its 2021 peak of $77.90.
Riot is not alone in facing challenges within the Bitcoin mining sector. A report from JPMorgan Chase on September 1 highlighted that the market capitalization of the 14 U.S.-listed Bitcoin miners it tracks decreased by 21% in August, reaching $9.7 billion. Among these miners, Riot was the worst-performing, with a 39% decline in its stock value for the month.
Additionally, rising energy costs have eroded profits in the sector, prompting companies to seek alternative income sources.
The Role of ERCOT and Energy Credits
ERCOT, the Electric Reliability Council of Texas, maintains a mutually beneficial relationship with Bitcoin miners through demand response programs. These programs involve compensating miners for reducing energy consumption during periods of peak demand, preventing grid overload. ERCOT's struggles during the 2021 winter storm underscored the importance of grid stability.
Texas has been supportive of the Bitcoin mining industry through credit incentives. However, in early 2023, a bill aimed at cutting off mining industry access to these credits, SB 1751, passed the Texas State Senate but stalled in a House committee. Instead, the state enacted two mining-friendly bills on September 1, expanding incentives and reducing regulatory hurdles.
The economic equation for Bitcoin miners revolves around whether they lose more by not operating than they gain from payment for curtailing energy use. If grid operators compensate miners slightly more than their potential earnings from mining, miners willingly reduce their operations.
Unlike the remainder of continental U.S. held by one of two interconnected grids, ERCOT is an unregulated network of energy providers and operates independently, covering 90% of Texas.
While competition in energy markets leads to the lower price of power, it also means the potential weak safety net baked into grids. Bitcoin miners act as a "controllable load resource," providing insurance against grid disruptions and price spikes during peak consumption periods.