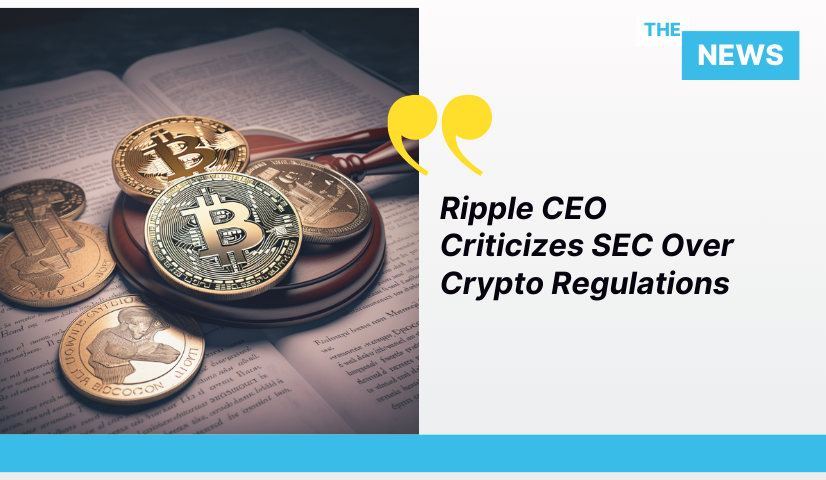 Key Takeaways

Ripple CEO challenges SEC's regulatory methods, citing recent court victories.
Garlinghouse calls for more constructive crypto regulation by the U.S. Congress.
Ripple's Stance Against SEC
In a bold statement at the Ripple Swell conference in Dubai, Ripple CEO Brad Garlinghouse criticized the U.S. Securities and Exchange Commission (SEC) for deviating from its investor protection mission. This critique, aired in an interview with CNBC's Dan Murphy, comes amidst ongoing legal tussles between Ripple and the SEC.
SEC's Legal Battle with Ripple
The SEC's 2020 allegations accused Ripple and its executives of a $1.3 billion securities fraud related to XRP sales. Ripple's defense has hinged on the argument that XRP is not a security, a stance bolstered by a recent judicial ruling in July favoring Ripple. Following this, the SEC dropped its charges against Ripple executives, including Garlinghouse.
Ripple's Legal Victories and Future Steps
These legal victories have benefitted Ripple and signalled a shift in the broader crypto industry's regulatory landscape in the U.S. The next phase in the legal process involves a 90-day remedies-related discovery phase, commencing from Nov. 9, as per the SEC's proposed schedule.
Garlinghouse's comments reflect a growing sentiment in the crypto community for a shift from regulation through litigation to more constructive legislative measures. He underscores the need for federal laws governing digital currencies, which he believes should come from Congress rather than continuous legal battles.
Understanding Ripple and XRP
Ripple, primarily a payments company, facilitates cross-border money transfers using blockchain technology. Its RippleNet network and use of XRP, a cryptocurrency, streamline international transactions. XRP is a bridge currency in Ripple's model, converting one fiat currency to another across borders.
The dual role of XRP, as both a facilitative tool for Ripple's business and an investment vehicle, has drawn scrutiny from regulators. Ripple's significant ownership of XRP and its quarterly token releases to investors have been central to the SEC's concerns. Ripple maintains that XRP should be classified as a currency or commodity, not a security, to avoid cumbersome regulatory requirements.