Key Points
Retail investor interest in the stock market has cooled off during the generative AI frenzy, despite significant stock surges by companies like Nvidia. In response to this waning enthusiasm, Robinhood, the popular U.S. stock trading platform, has recently announced a round of layoffs.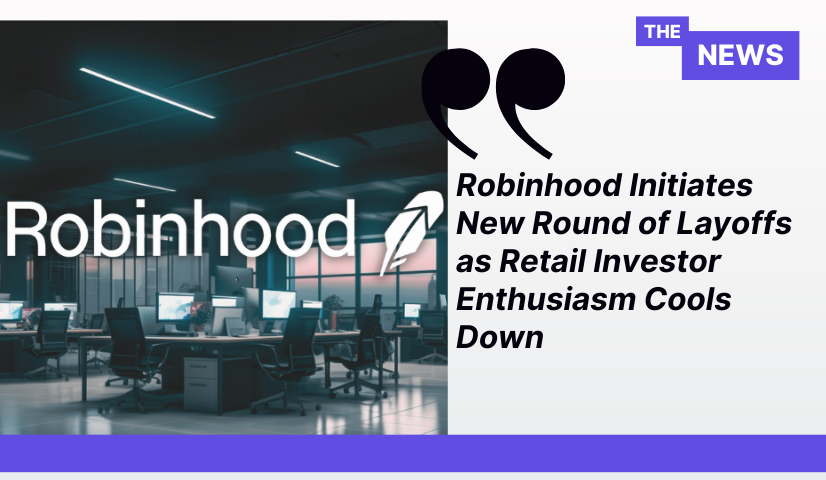 Robinhood's Latest Round of Layoffs
Robinhood sent an internal memo on June 26th, announcing the termination of approximately 7% of its full-time workforce, affecting around 150 employees. This marks the third round of layoffs in just over a year for the company, which had already cut over 1,000 jobs in 2022. By the end of 2022, Robinhood had about 2,300 full-time employees.
Adaptation to Decreased Trading Volume
Jason Warnick, Robinhood's Chief Financial Officer, stated in the internal memo that the downsizing decision was primarily driven by the sudden decrease in trading volume. The company aims to adapt to the changing market conditions and drive improvements within the organization.
Robinhood's Operational Success and User Base
During the second quarter of 2021, Robinhood experienced its peak operational success with over 21 million monthly active users. This surge in user activity was attributed to the GameStop short squeeze orchestrated by Reddit users, sparking a speculative trading frenzy in the U.S. stock market.
Declining Retail Investor Enthusiasm
In early 2022, the U.S. Federal Reserve initiated aggressive interest rate hikes, dampening retail investors' speculative enthusiasm. By May 2023, Robinhood's monthly active users had dropped below 11 million. In the first quarter of 2023, the platform's transaction-based revenue decreased by 5% compared to the previous year, with over a 50% decline from the first quarter of 2021.
Market Speculation and Robinhood's Stock Price
Speculative stocks regained investor attention as the market speculated on the Federal Reserve potentially halting interest rate hikes or even shifting towards rate cuts. Since the beginning of the year, Robinhood's stock price has surged by 18.3%. However, it has experienced a significant drop of 86% from its all-time high since going public in July 2021.