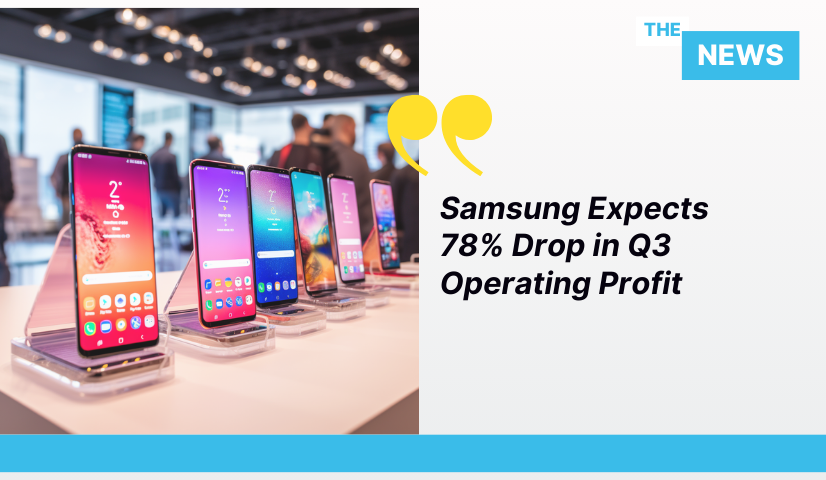 Key Takeaways
Samsung Electronics is forecasting a 78% drop in operating profit for the quarter ending in September.
The company's revenue for Q3 is expected to be approximately 67 trillion South Korean won, while operating profit is projected to be around 2.4 trillion won.
Challenging Times for Samsung Electronics
Samsung Electronics, the South Korean technology powerhouse, has released its guidance for the third quarter of this year, and the numbers are reflective of ongoing challenges in the industry. The company anticipates a substantial 78% drop in its operating profit for the quarter ending in September. This projection comes in the face of market dynamics that have put pressure on various segments of the tech giant's business.
Revenue and Profit Projections
According to the released guidance, Samsung Electronics expects its revenue for the third quarter to reach approximately 67 trillion South Korean won, equivalent to about $50.02 billion. This figure, while significant, represents a decrease from previous quarters. In comparison, the company reported 76.78 trillion won in sales for the same period a year ago. The decline in revenue indicates the challenges that Samsung is currently navigating.
Operating profit, a key financial metric, is forecasted to stand at about 2.4 trillion won for the third quarter. This represents a significant decrease from the 10.85 trillion won reported in the same period last year. On a quarter-on-quarter basis, Samsung's Q3 guidance shows an 11.5% increase from the revenue figure of 60.01 trillion won recorded in the second quarter. Operating profit, meanwhile, is expected to more than triple the 670 billion won posted during the same period.
Analyst Expectations vs. Company Guidance
The operating profit guidance provided by Samsung Electronics is slightly higher than what industry analysts had anticipated. Before the guidance was officially released, analysts polled by LSEG had expected operating profit to be approximately 2.3 trillion won for the September quarter, reflecting a year-on-year decline of 78.7%. Revenue was also expected to fall to 67.8 trillion won, a decrease of 11.6%, according to forecasts from LSEG, formerly known as Refinitiv.
Samsung's Diverse Portfolio
Samsung Electronics holds a dominant position in various technology sectors. As the world's largest manufacturer of memory chips, its products are used in a wide range of devices, from laptops to servers. Additionally, Samsung is a major player in the global smartphone market.
Market Response and Outlook
Despite the challenging financial outlook, shares of Samsung Electronics surged 3.16% on the day this guidance was released, indicating a somewhat positive market response. Samsung's stock was the largest gainer on the South Korean Kospi, significantly contributing to the index's overall gains in the Asian market.
The company's future performance will be closely watched as it navigates industry headwinds and strives to adapt to evolving market conditions.