Key Points

KoBold Metals, the latest unicorn start-up in Silicon Valley, has successfully secured $200 million in its recent funding round. This remarkable achievement not only pushes the company's estimated valuation beyond $1 billion but also garners investments from renowned figures such as Bill Gates and venture capital firm Andreessen Horowitz(a16z).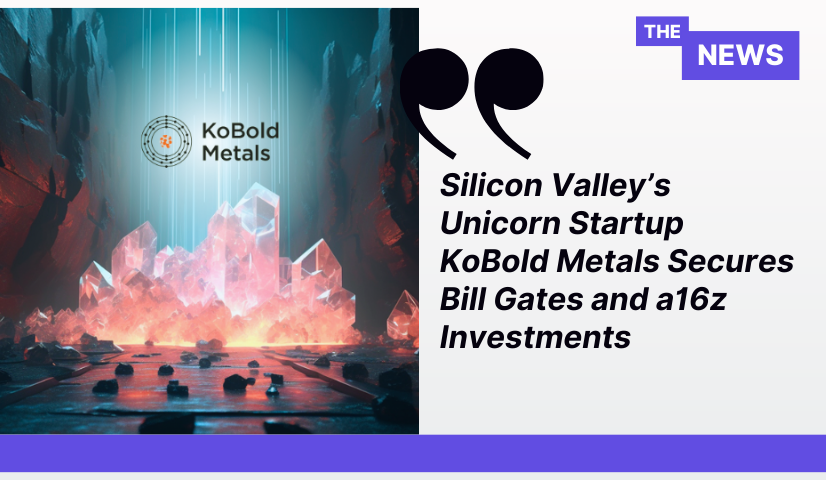 AI-Powered Mineral Exploration
KoBold Metals, founded in California in 2018, employs data science and machine learning to identify copper, graphite, nickel, and lithium deposits—essential raw materials for electric vehicle batteries. Presently, the company is involved in 60 exploration projects across North America, Africa, and Australia.
Secures Impressive Investors
The recent funding round witnessed participation from an impressive lineup of investors, including Breakthrough Energy Ventures, Bill Gates' climate tech venture firm, and Andreessen Horowitz. Other notable contributors encompass T. Rowe Price's venture capital arm, BOND, mining giant BHP, energy company Equinor from Norway, and the Mitsubishi Group from Japan.
Obtained 200 Million Dollars In Financing
The $200 million raised in the funding round will be allocated to KoBold Metals' ambitious endeavors. It will fuel the development of copper mining projects in Zambia, as well as nickel and lithium projects in other regions. Additionally, a portion of the funds will be directed towards software and hardware research and development.
Acquires Majority Stake in Zambian Copper Deposit
In December of the previous year, KoBold Metals made headlines with a $150 million investment to acquire a majority stake in an untapped copper deposit in Zambia. The development process for the copper mine is estimated to take at least eight years before production commences. Although KoBold Metals completed a previous funding round last year, the company initiated the latest funding round to expedite the development of the Zambian copper project.
Success through AI-Driven Exploration
Kurt House, the CEO and founder of KoBold Metals, expressed concerns about the stagnant progress in mineral exploration technology over the past few decades, resulting in a declining success rate in discovering new deposits. However, with the rapid expansion of metal demand driven by the energy transition, the mining industry's capacity expansion may soon struggle to keep up with the pace of demand growth. House believes that KoBold's AI-driven exploration techniques can significantly enhance the success rate. Connie Chan, a partner at Andreessen Horowitz, also highlighted KoBold Metals' above-average success rate in nickel exploration conducted in Quebec, Canada.
KoBold Metals' triumphant funding round, with notable investments from Bill Gates and Andreessen Horowitz, solidifies its position as a key player at the intersection of green technology and AI. Leveraging its innovative approach to mineral exploration and its focus on critical materials for the energy transition, KoBold Metals is well-positioned to meet the growing demand for metals in a sustainable future.