Key Points

Singapore has been at the forefront of embracing digital innovation, and its latest move involves exploring the potential of digital assets through Project Guardian. Following the release of the Digital Currency White Paper last week, which provided clear standards for Central Bank Digital Currency (CBDC), tokenized bank deposits, and stablecoins on distributed ledgers, the Monetary Authority of Singapore (MAS) announced the initiation of testing activities for digital asset networks.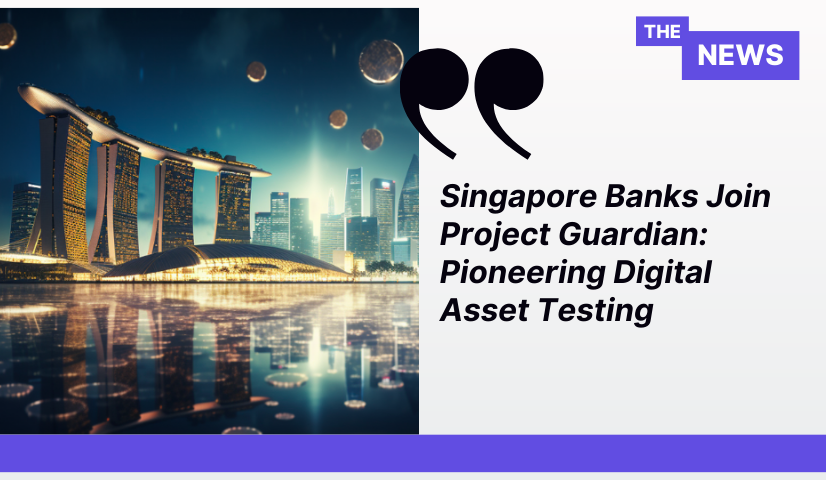 Eleven Banks, Participate in Project Guardian Experiment
MAS introduced Project Guardian as an experimental initiative aimed at recruiting 11 financial institutions to participate in cross-asset class tokenization tests. Among the participants are renowned global banks such as HSBC, Standard Chartered, DBS, and Citibank, forming a formidable consortium of traditional banking giants.
Standard Chartered's Tokenization Endeavors
Each institution will explore tokenization in their chosen domains. For instance, Standard Chartered is preparing to develop a token issuance platform to issue security tokens backed by assets listed on the Singapore Exchange. Additionally, the bank is collaborating with payment platform Linklogis to foster relevant partnerships and explore further opportunities.
Kai Fehr, Global Head of Trade and Working Capital at Standard Chartered, expressed enthusiasm for the project's potential to unlock new opportunities for investors. The preliminary pilot conducted in collaboration with the Singapore Exchange and Linklogis demonstrated the viability of tokenized assets as an innovative technology with distribution capabilities, offering investors a chance to participate in real-world economic activities.
MAS's Keen Interest in Technological Advancements
While MAS maintains a strong stance against cryptocurrency speculation, Leong Sing Chiong, Deputy Managing Director of MAS's Market Development division, highlighted their enthusiasm for technological advancements. Despite discouraging and seeking to limit speculative activities in the cryptocurrency space, MAS recognizes the immense potential of the digital asset ecosystem in value creation and efficiency enhancement.
Japan's Financial Services Agency Joins Project Guardian
The Japanese Financial Services Agency (FSA) announced its participation in Project Guardian as an observer, aiming to strengthen financial technology ties between Singapore and Japan. The FSA becomes the first overseas financial regulatory body to join the project. Leong Sing Chiong welcomed the FSA's involvement, expressing hopes for collaborative efforts to promote responsible innovation in the development of digital asset ecosystems and foster global cooperation.
Mamoru Yanase, Director for Policy Coordination at the FSA, expressed his delight at participating as an observer in Project Guardian. He emphasized the importance of addressing risks in the complex development of decentralized financial systems while recognizing the long-term potential of blockchain technology as a source of innovation, including Web3.0. Through collaboration with MAS and financial institutions, the FSA aims to enhance expertise in this domain.
With the launch of Project Guardian and the participation of major banks and regulatory bodies, Singapore is taking significant strides toward exploring the potential of digital assets and distributed ledger technology. This pioneering initiative opens doors for innovation, collaboration, and responsible development in the digital asset ecosystem.