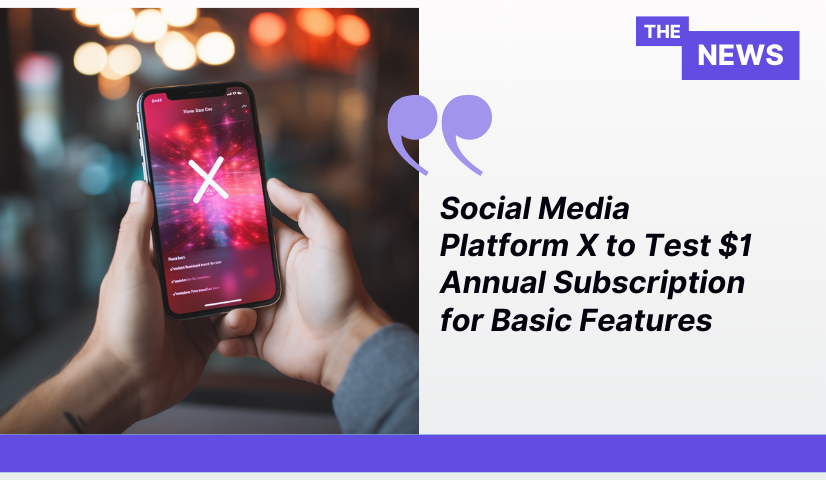 Key Takeaways
Social media platform X, formerly Twitter, will introduce a $1 annual subscription called "Not A Bot."
The subscription will charge users for features like likes, reposts, quoting other accounts' posts, and bookmarking, with fees varying by country to address bot-related issues.
Enhanced Features with "Not A Bot" Subscription
On October 17, social media platform X, formerly known as Twitter, announced plans to test a new subscription model aimed at enhancing user experiences and combating issues related to bots and spammers. The subscription, known as "Not A Bot," will introduce a nominal $1 annual fee for users who wish to access premium features.
Under the "Not A Bot" subscription, users will gain access to several enhanced features that can significantly improve their interactions on the platform. These features include the ability to like, repost, and quote posts from other accounts. Additionally, subscribers can enjoy the convenience of bookmarking posts on the web version of the platform. These features aim to promote genuine and meaningful interactions on X.
Fighting Bots and Spammers
The primary motivation behind introducing the "Not A Bot" subscription model is to address the persistent challenges associated with bots and spammers on the platform. By introducing a nominal fee, X aims to deter automated and spammy activities while ensuring a higher quality of content and user engagement. The subscription fee will vary from country to country, based on the prevailing exchange rates.
Testing in New Zealand and the Philippines
To evaluate the effectiveness of the new subscription model, X will initially roll it out for users in New Zealand and the Philippines. This test will not affect existing users, ensuring a smooth transition. However, new users who opt not to subscribe will have limited access, allowing them to view and read posts, watch videos, and follow accounts.
Elon Musk's Stance on Bots
Bots and spammers have been a long-standing concern for X, particularly since Elon Musk acquired the company last year. In July, X implemented limitations on viewing tweets to " ensure the authenticity" of its user base. Introducing the "Not A Bot" subscription model is another step in this ongoing effort to combat these issues.
Subscription Tiers Based on Ad Display
Furthermore, X CEO Linda Yaccarino recently met with X's lenders and disclosed plans to test three tiers of its subscription service based on the number of ads shown to users. This approach demonstrates the platform's commitment to providing users with a variety of subscription options to cater to their preferences and needs.
In conclusion, X's introduction of the "Not A Bot" subscription model represents a proactive step to enhance user experiences and address challenges related to bots and spammers. By offering a nominal fee for premium features, the platform aims to create a more authentic and engaging environment for its users. The initial test in New Zealand and the Philippines will provide valuable insights into the model's effectiveness and user response.