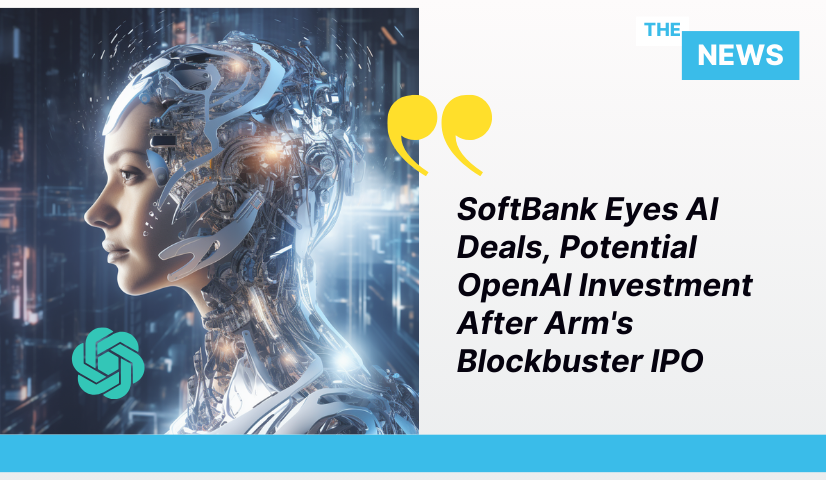 Key Takeaways

SoftBank, led by CEO Masayoshi Son, plans to invest substantial funds in artificial intelligence (AI) technologies, as the company shifts to an "offence mode" following the listing of its Arm unit.
The Japanese tech investment firm is considering various AI-related options, including a potential partnership with OpenAI, the creator of ChatGPT, and exploring opportunities such as a preliminary approach to acquire UK-based AI chipmaker, Graphcore.
SoftBank's AI Investment Strategy and Potential Partnership with OpenAI
SoftBank, the Japanese conglomerate known for its tech investments, is actively seeking opportunities in the field of artificial intelligence (AI). Following the successful initial public offering (IPO) of its Arm unit, the company is poised to deploy tens of billions of dollars in AI investments. This strategic shift towards AI reflects the excitement surrounding AI advancements and the desire to position SoftBank at the forefront of this technological revolution.
Among SoftBank's AI endeavors, the company is exploring the possibility of forging a comprehensive strategic partnership with OpenAI, the developer behind ChatGPT. CEO Masayoshi Son has expressed his enthusiasm for AI technology, emphasizing his role as a "heavy user" of ChatGPT. Son's frequent interactions with OpenAI CEO Sam Altman underscore the potential for a deeper collaboration between SoftBank and OpenAI.
Diverse AI Investment Options
SoftBank's AI investment strategy extends beyond potential collaboration with OpenAI. The company is actively exploring a range of opportunities in the AI landscape. One notable consideration is a preliminary approach to acquire Graphcore, a UK-based AI chipmaker. However, Graphcore has clarified that there has been no attempt or offer from SoftBank to purchase the company.
SoftBank's successful IPO of Arm, which garnered a valuation of $54.5 billion, marked a significant milestone for the company. This achievement follows SoftBank's earlier privatization of Arm in 2016 for $32 billion. The positive reception of Arm's IPO has emboldened SoftBank to reevaluate its investment strategy and redirect its focus toward emerging technologies like AI.
Navigating Changing Investment Dynamics
SoftBank's renewed interest in investments comes after a period of caution referred to as "defence mode." Since May 2022, SoftBank had adopted a more conservative stance due to factors such as rising interest rates and global banking sector uncertainties. However, recent developments, including the resurgence of its Vision Fund, have prompted SoftBank to adopt a more proactive approach in the tech investment landscape.
SoftBank's exploration of AI investments and potential
collaborations with AI pioneers like OpenAI exemplifies its commitment to staying at the forefront of technological innovation. As AI continues to reshape various industries, SoftBank's strategic moves in this domain are poised to play a pivotal role in shaping the company's future endeavors.