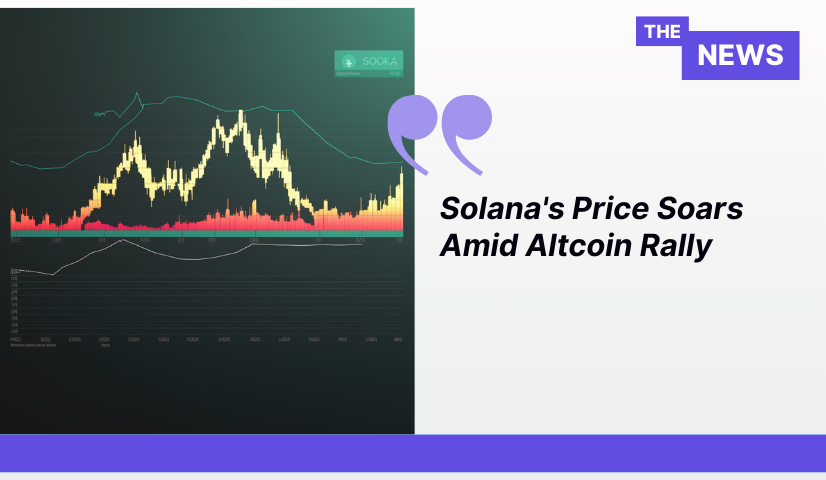 Key Takeaways

Solana's price jumped 18%, nearly tripling in the past month.
Cathie Wood's positive remarks on Solana contribute to its rally.
Solana's Remarkable Price Surge
The Solana token significantly surged on Wednesday, climbing nearly 18% to $65.65. This impressive rise, which has seen the token roughly triple in value over the past month, aligns with the broader altcoin rally currently sweeping the cryptocurrency market.
The price spike followed a day after Ark Invest CEO Cathie Wood praised Solana's performance on CNBC's "Squawk Box." Wood compared Solana favorably to Ethereum, citing its speed and cost-effectiveness. Despite acknowledging Solana's higher downtime compared to Ethereum, Wood's comments underscore the growing interest in the token, driven by its technological advantages and growing market presence.
Solana in the Crypto Landscape
Solana has emerged as a significant player in the cryptocurrency world, particularly after its rise during the 2021 bull market. Positioned as a faster, more cost-effective alternative to Ethereum, it has captured the attention of investors and developers alike. Solana's activity growth, especially in liquid staking protocols, underscores its increasing relevance in the crypto ecosystem.
Trading Trends and Market Rally
Solana has stood out in the U.S. altcoin market, outperforming other notable tokens like Dogecoin, Litecoin, Polygon's MATIC, and Ripple's XRP. Its recent trajectory follows a broader market rally led by Bitcoin, which began on October 24 and saw a significant increase in value. Historically, altcoin rallies often trail Ethereum's performance, with traders shifting focus to altcoins during Bitcoin's momentum slowdowns.
Solana's Resilience Post-FTX Crisis
A year ago, Solana faced a challenging period following the FTX blowup, which saw its value plummet by 70% over two days. However, the token has rebounded remarkably, up about 550% this year and becoming one of the best-performing cryptocurrencies of 2023. This resilience contrasts with the more modest gains of Bitcoin and Ether during the same period.
The positive sentiment around Solana, boosted by influential figures like Cathie Wood, suggests a bright future for the token. Its technological advantages and growing market adoption position Solana as a critical player in the evolving landscape of cryptocurrencies.