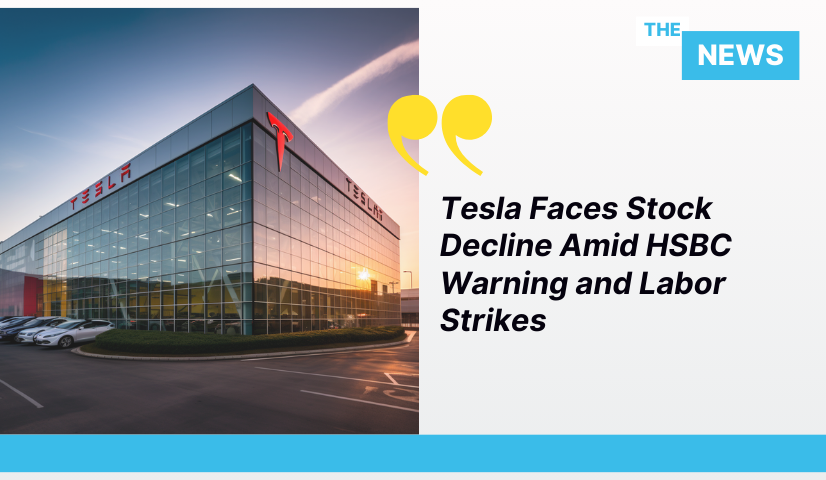 Key Takeaways

Tesla shares dropped 5% after HSBC's "reduce" rating, expressing concerns about Elon Musk's influence and ambitious tech projects' impact on the stock.
Labor strikes in Sweden, led by unions, challenge Tesla's labor practices, potentially affecting operations and raising questions about collective bargaining agreements.
HSBC's Cautionary Note and Stock Impact
Tesla witnessed a 5% decline in shares, closing at $209.98, following HSBC Global's initiation of coverage with a "reduce" rating and a $146 price target. The note highlighted Elon Musk's dual role as an asset and a risk to Tesla, emphasizing his charismatic leadership with a "cult-like following." Analysts expressed concerns about ambitious future tech projects and the need for these ideas to materialize to sustain the current share price.
Balancing Act for Tesla's Future Tech Projects
HSBC analysts pointed to the "hope" in Tesla's share price, considering the company's ambitious ventures, including driverless systems, humanoid robots, and supercomputers. While acknowledging Tesla's position as a cost leader in the electric vehicle (EV) market, analysts emphasized the necessity of these innovative projects becoming a reality. Significant delays or challenges could pose risks to Tesla's stock performance.
On a more optimistic note, HSBC analysts highlighted Tesla's core automotive business, stating that it faces fewer challenges than its competitors and deserves a premium. Tesla remains a crucial player in a growth market with the rising penetration of electric vehicles. The analysts noted Tesla's cost leadership and the potential for sustained leadership given its scale and ambitious plans.
Labor Strikes in Sweden Pose Challenges
Beyond HSBC's rating, Tesla faces challenges in Sweden as labor unions, led by the IF Metall trade union, engage in strikes and blockades. The dispute concerns Tesla's reluctance to sign a collective bargaining agreement with service division employees. Strikes initiated on October 27 could extend to port blockades and affect operations if labor agreements are not reached by November 17.
Global Labor Pressure and UAW Support
The labor action may spread to Norway, further intensifying challenges for Tesla. President Joe Biden voiced support for the United Auto Workers (UAW) during a speech in Illinois, endorsing UAW's ambition to negotiate collective agreements not only with traditional automakers but also with Tesla and Toyota. UAW President Shawn Fain aims to expand negotiations beyond the "Big Three" to include Tesla and others in 2028.
Upcoming Cybertruck Event Amid Challenges
As Tesla faces stock declines and labor challenges, the company is expected to host a Cybertruck event at the end of the month. However, the anticipation is overshadowed by criticism of Cybertruck's build quality and design. This adds to Tesla's current challenges, requiring strategic responses to navigate both market dynamics and internal labor pressures.