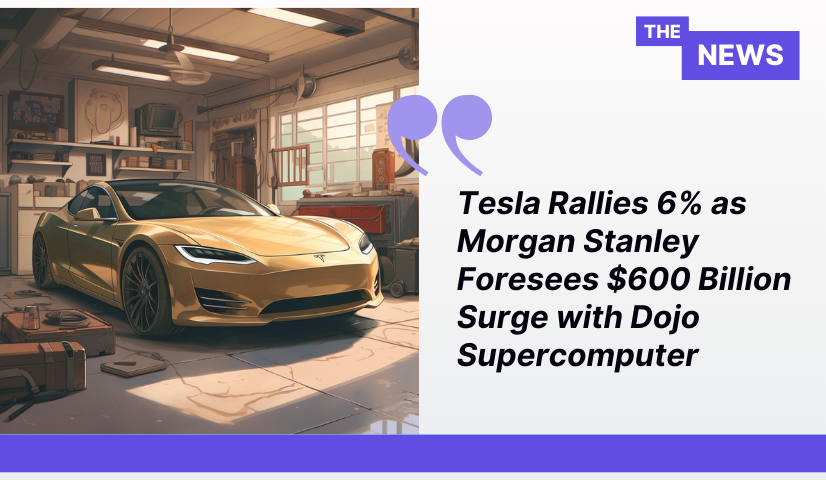 Key Takeaways

Tesla witnessed a 6% rally following Morgan Stanley's prediction that its Dojo supercomputer could boost the company's market value by nearly $600 billion by accelerating its ventures into robotaxis and software services.
Morgan Stanley upgraded Tesla's stock to "overweight," raising its price target to $400, the highest among Wall Street analysts, projecting a market capitalization of around $1.39 trillion.
Tesla experienced a significant 6% surge in its stock price after Morgan Stanley released an optimistic assessment of the potential impact of Tesla's Dojo supercomputer. According to the investment bank, the Dojo supercomputer could lead to an impressive $600 billion surge in Tesla's market value. This surge is attributed to the supercomputer's capacity to expedite Tesla's ventures into the realm of robotaxis and software services.
Dojo Supercomputer's Pioneering Potential
Dojo, Tesla's formidable supercomputer, commenced its operations in July with the primary objective of training artificial intelligence (AI) models for self-driving cars. Tesla has allocated over $1 billion for the development and utilization of Dojo in the coming year. Morgan Stanley's analysts, led by Adam Jonas, believe that Dojo has the potential to create new markets that extend well beyond conventional vehicle sales.
Jonas stated in a note, "If Dojo can help make cars 'see' and 'react,' what other markets could open up? Think of any device at the edge with a camera that makes real-time decisions based on its visual field." This groundbreaking technology could have applications across various industries.
Morgan Stanley's Bullish Upgrade
Morgan Stanley not only expressed its optimism about Tesla's potential but also upgraded Tesla's stock rating from "equal-weight" to "overweight." Furthermore, the investment bank designated Tesla as its "top pick," replacing Ferrari's U.S.-listed shares. This bullish outlook was accompanied by a substantial increase in the 12-18 month price target for Tesla's shares, soaring by 60% to $400.
This elevated price target, if realized, would result in Tesla achieving a market capitalization of approximately $1.39 trillion. Such a valuation represents a remarkable 76% increase compared to Tesla's current market value, which stands at about $789 billion.
Dojo's Impact on Software and Services
Morgan Stanley's Adam Jonas anticipates that the Dojo supercomputer will generate the most significant value in the software and services sectors. The bank revised its revenue estimate for Tesla's network services business, forecasting a revenue of $335 billion by 2040, up from the previous estimate of $157 billion.
Jonas predicts that by 2040, this unit will constitute more than 60% of Tesla's core earnings, nearly doubling its contribution compared to the expectations for 2030. He attributes this growth to emerging opportunities in third-party fleet licensing and increased average monthly revenue per user (ARPU).
Despite its already substantial market value, Tesla continues to trade at a premium compared to traditional automakers. Tesla's 12-month forward price-to-earnings ratio of 57.9 significantly surpasses legacy automakers like Ford (6.31) and General Motors (4.56), according to data from LSEG. This premium valuation reflects the high expectations and investor confidence in Tesla's future prospects.