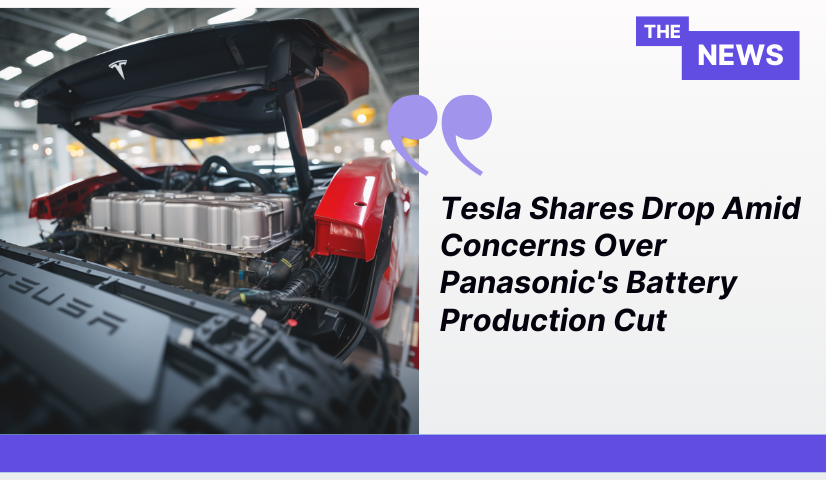 Key Takeaways

Tesla's stock falls after news of Panasonic's reduced battery cell production.
Concerns arise regarding declining demand for higher-priced EVs and Tesla's production challenges, impacting share prices.
Tesla Faces Stock Decline Over Concerns About EV Demand
Electric vehicle (EV) manufacturer Tesla experienced a nearly 5% drop in its stock value on Monday. This decline came in response to reports that Panasonic, a long-time partner and battery cell supplier for Tesla, had reduced battery production in Japan during September 2023.
The news surrounding Panasonic's battery production cut has raised concerns among investors about the potential softening of demand for EVs. Of particular concern are the higher-priced EV models that may no longer qualify for government tax breaks or incentives. Panasonic's battery cells have historically been used in Tesla's older, more premium models, including the Model X SUV and Model S sedans.
Challenges Faced by Tesla
During Tesla's third-quarter earnings call on October 18, CEO Elon Musk alerted shareholders to the company's challenges. Musk cited the pressure of interest rates, emphasizing the need to keep EV prices competitive. He expressed concerns that rising interest rates could hinder consumers' ability to purchase or lease electric vehicles in the future.
Elon Musk also revealed significant challenges related to Tesla's long-anticipated Cybertruck production. Musk stated during the Q3 earnings call, "We dug our own grave with the Cybertruck." He further added, "I just want to temper expectations for Cybertruck. It's a great product, but financially, it will take a year to 18 months before it is a significant positive cash flow contributor."
Share Price Decline and Short Sellers
Since the Q3 earnings call, Tesla's share prices have fallen by over 18%. Data from financial information services company Ortex shows that Tesla short sellers have profited approximately $3 billion from that date through the most recent market close. As of October 27, short interest in Tesla stood at around $18.08 billion, equivalent to 3.21% of free float, as per Ortex data.
Bernstein's Toni Sacconaghi shared a bearish perspective on Tesla, expressing expectations of "lower margins and disappointment on volumes" in fiscal 2024. The firm currently has a price target of $150 for Tesla's shares. Despite the market's anticipation of 2.3 million vehicle deliveries by Tesla next year, an increase of about 500,000 units year-over-year, Sacconaghi noted that Tesla had to reduce prices by approximately 16% to drive the current year's growth of 500,000 units. This has placed pressure on overall operating margins.
Tesla's bearish sentiment seems to be spreading across various segments of the EV market. Shares of ON Semiconductor, a chip supplier for EVs, faced a 20% decline on Monday after the company provided disappointing Q4 guidance.
Tesla has not issued an immediate response regarding these developments.