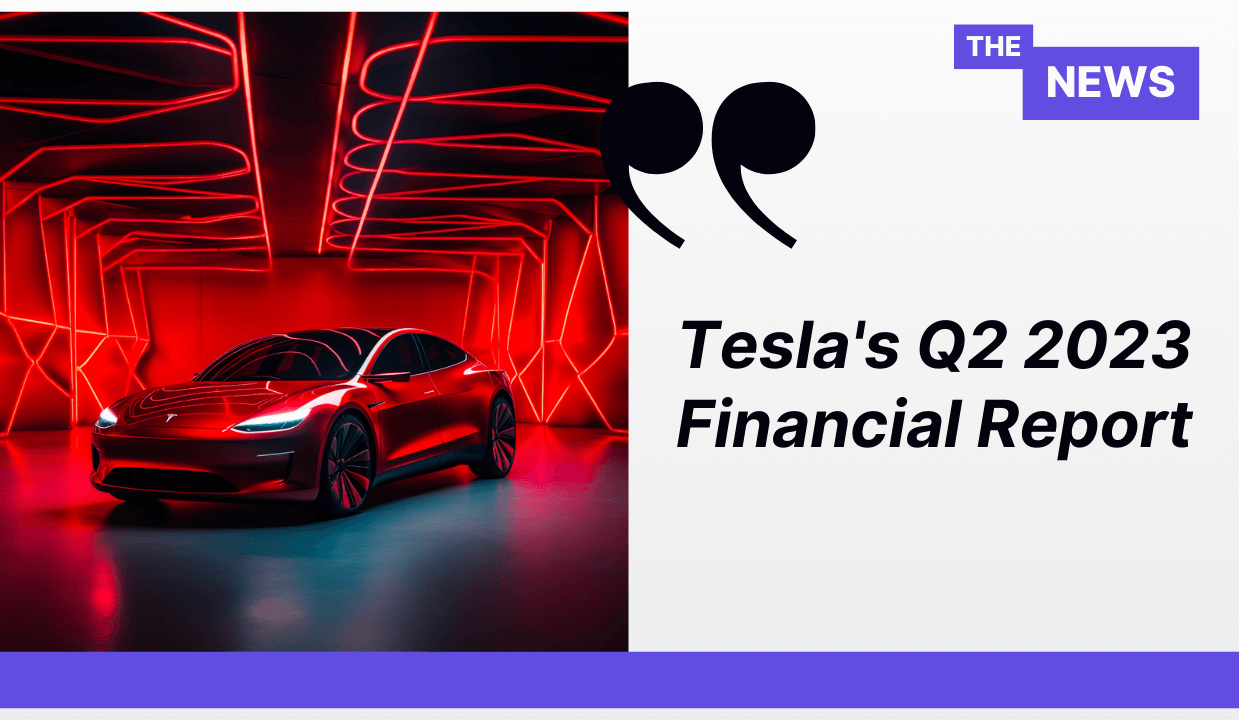 Key Takeaways

Tesla has released its Q2 2023 financial report, maintaining its 15-quarter streak of profitability. The company's revenue saw an impressive 47% YoY growth, reaching $24.9 billion, primarily driven by a significant increase in vehicle deliveries during the quarter. However, the report also revealed a substantial decline in gross profit margins due to Tesla's continued efforts to expand its electric vehicle (EV) adoption through price reductions.
Revenue Growth and Gross Profit
Tesla's Q2 2023 revenue surged to $24.9 billion, showing a substantial YoY increase of 47%. The growth was supported by the robust demand and delivery of a large number of EVs during the quarter. Additionally, the gross profit increased by 7%, totaling $4.5 billion.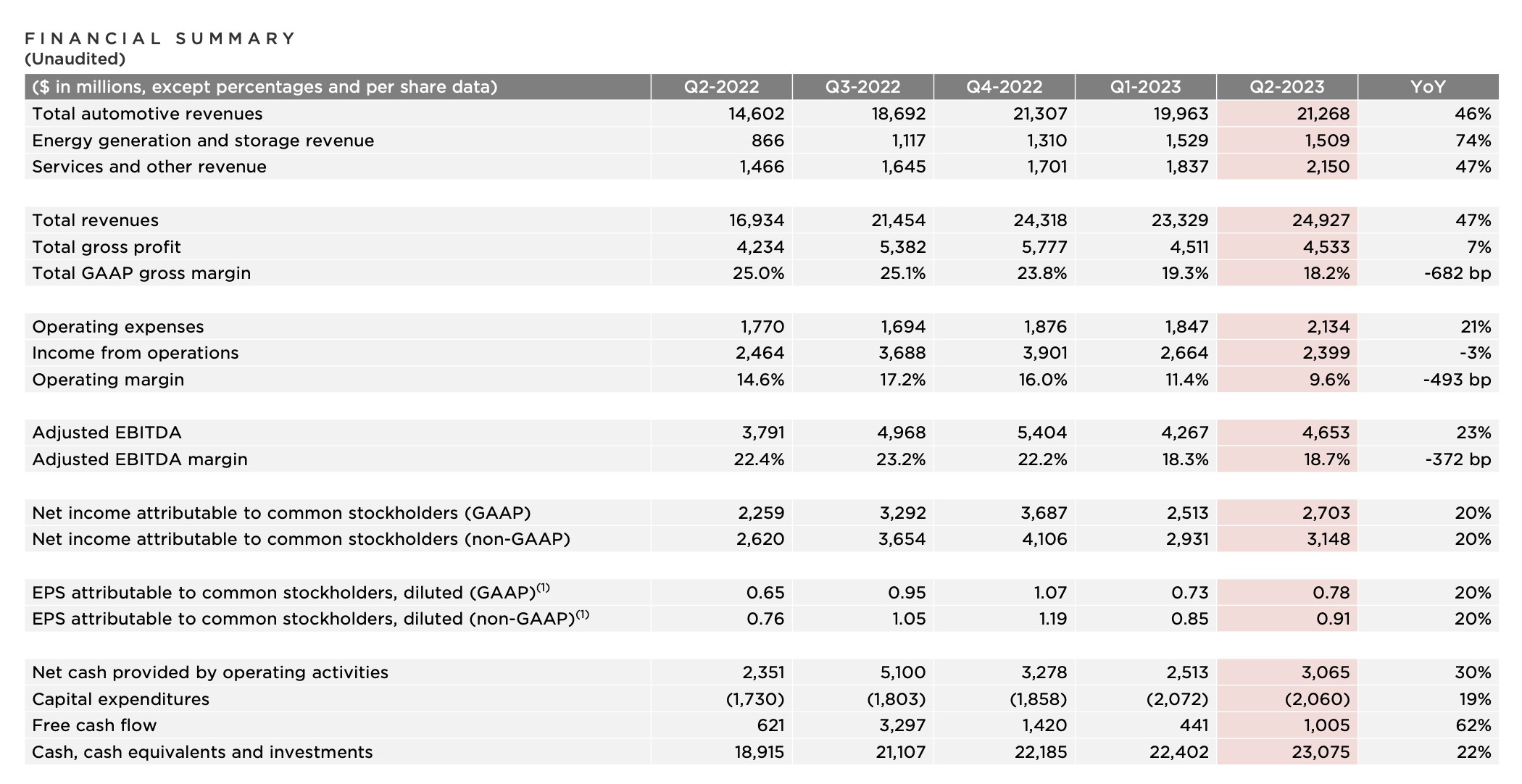 Impact of Price Reductions
Tesla's continuous focus on reducing prices to boost sales led to a significant increase in vehicle deliveries in 2023. The company expects to deliver 1.8 million electric vehicles this year. However, this strategy came at the expense of gross profit margins. Compared to the same quarter last year, Tesla's gross profit margin declined from 25% to 18.2%, which is lower than the previous quarter's 19.3%.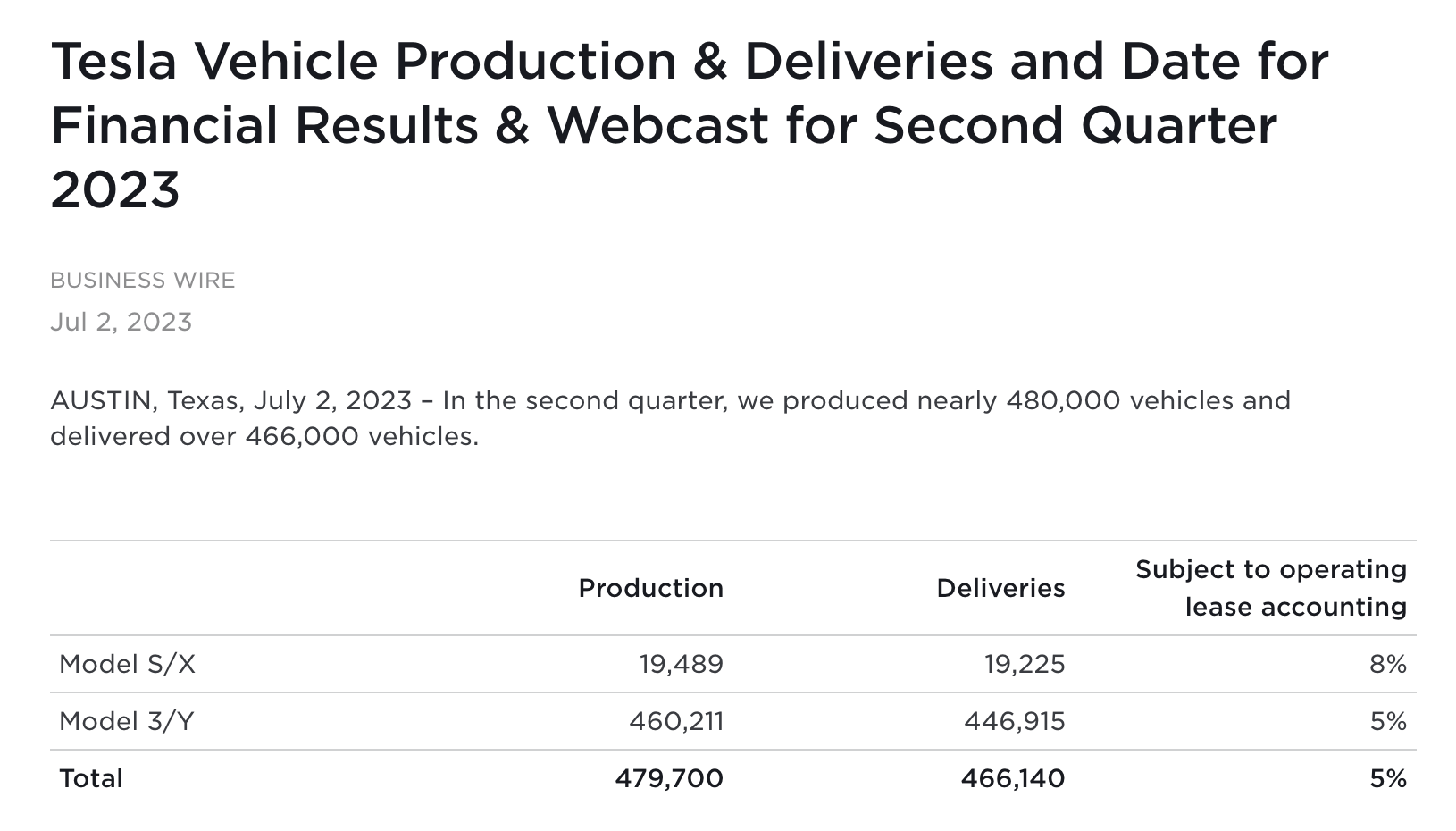 Operating Profit Decline and Increased Expenses
While revenue growth was robust, Tesla's operating profit saw a decline to $2.39 billion, with an operating profit margin of 9.6%. This is notably lower than the 14.6% operating profit margin during the same period last year, marking the lowest for this year so far. The increase in operating expenses can be attributed to investments in projects like Cybertruck and artificial intelligence, resulting in a 21% YoY increase in operating expenses, reaching $2.13 billion for the quarter.
Inventory Pressures and Logistics Improvements
Tesla faces some inventory pressures, evident from the 16-day global inventory days in Q2 2023. This is significantly higher than the mere 4 days of inventory days during the same period last year. While Tesla's inventory situation may not be as concerning as some competitors with over 60 or even over 100 days of inventory, it does indicate that EV demand is approaching a bottleneck in the current market.
To improve the logistical challenges, Tesla has been adjusting its supply chain pace to smooth out deliveries throughout each quarter. This has led to an increase in inventory days, with a significant portion being vehicles in transit, display cars, and test drive vehicles.
Future Outlook and Upcoming Projects
With four operational factories and a combined annual production capacity of 2.02 million vehicles, Tesla is well-positioned to continue setting new delivery records in the second half of 2023. The highly anticipated next-generation platform, rumored to be an affordable version, could potentially debut in the next one to two years.
Challenges in Long-Delayed Projects
While Tesla has seen considerable success, there have been challenges with certain projects. For example, the Cybertruck, first unveiled in 2019, only commenced production this year after a four-year wait. However, the Roadster 2, announced in 2017, is still listed as "under development," making it Tesla's most long-delayed project.
Despite facing challenges related to gross profit margins and inventory management, Tesla's Q2 2023 financial results demonstrated remarkable revenue growth and continued profitability. The company's strategic focus on price reductions and expanding EV adoption has driven impressive vehicle deliveries. As Tesla seeks to streamline logistics and introduce new projects, including the highly anticipated affordable EV, its growth trajectory remains promising in the competitive electric vehicle market.