Key Points

Tesla's Q2 success: price cuts, tax credits drive deliveries. Model 3, Model Y excel in China. Price cuts, competition shape Tesla's strategy. Adaptation crucial for market position. Q2 results will unveil pricing strategy impact.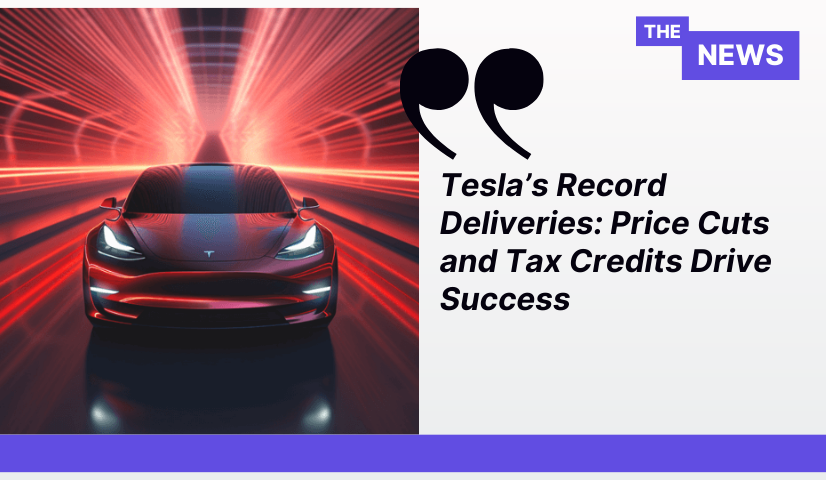 Q2 Deliveries Soar with Price Cuts & Incentives
Tesla, the electric vehicle (EV) manufacturer owned by Elon Musk, has surpassed Wall Street delivery estimates in Q2 2023. This achievement can be attributed to the implementation of several price cuts by Tesla and the introduction of federal electric vehicle tax credits by the Biden administration. The company reported record global production of 479,000 units, along with a remarkable 10% increase in deliveries, reaching 466,140 vehicles. These figures represent an impressive 83% year-over-year growth. Analysts and investors value delivery numbers over production figures as they provide a more accurate representation of actual sales, which Tesla does not disclose.
Model 3 and Model Y Drive Deliveries, China Key
Tesla's delivery success in Q2 was primarily driven by the Model 3 and Model Y vehicles, with the company delivering a total of 460,211 units of these models. In comparison, 19,489 units of the more expensive Model S and Model X were delivered. It is worth noting that approximately half of the deliveries originated from Tesla's Shanghai gigafactory, as reported by the China Passenger Car Association. While the association has not released June sales numbers, Tesla delivered 75,842 China-made EVs in April and 77,695 in May. Among these, around 82,610 vehicles were delivered to mainland China during the same period.
Price Cuts and Competition Shape Tesla's Strategy
In the US, Tesla's Model 3 became eligible for the full $7,500 electric vehicle tax credit in Q2, further incentivizing sales. The company's price cuts across various markets, including the US, China, and the UK, have played a significant role in driving sales growth. However, investors remain keen to assess the impact of these price reductions on Tesla's profit margins. In Q1, the company experienced a 24% decline in net income compared to the previous year due to price reductions. Tesla plans to release its Q2 earnings report on July 19, shedding light on the financial implications of its pricing strategy.
Tesla Adapts with Market Strategies
Tesla's record-breaking delivery numbers come amidst heightened competition from both domestic and international electric car manufacturers. The company has been proactively reducing prices to maintain its market position. In major markets like China, where Tesla faces competition from local EV makers, the price cuts have proven successful. Chinese automakers, such as Li-Auto, Nio, and Xpeng, have also reported impressive sales figures for June. Tesla's strategic choice to focus on volume manufacturing and prioritize higher sales over immediate profits has contributed to its sales growth. Nevertheless, the company faces challenges such as rising borrowing costs for customers and increased costs of raw materials and commodities.
Tesla's Q2 financial results will provide further insights into the company's performance and the effectiveness of its pricing strategies. As the EV industry continues to evolve, Tesla's ability to navigate market dynamics and maintain its position as a global leader will be closely monitored.