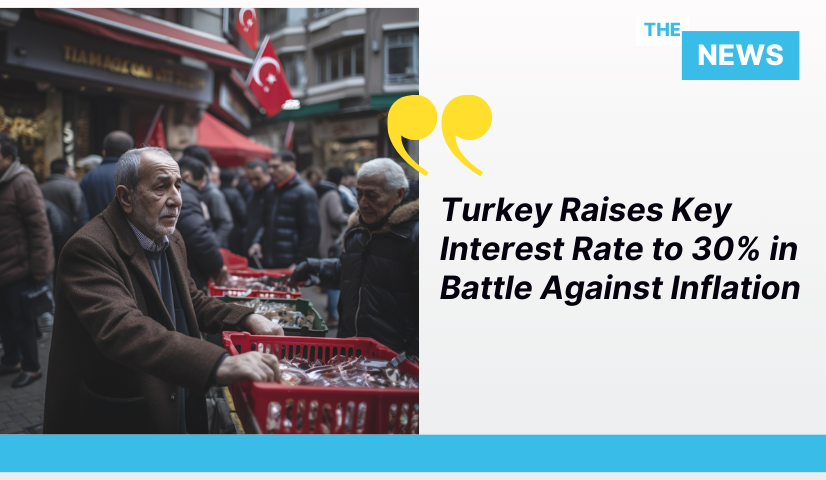 Key Takeaways

Turkey's central bank increased its key interest rate to 30% in a move aimed at addressing double-digit inflation.
The Turkish lira weakened slightly against the dollar following the announcement, highlighting ongoing economic challenges.
Despite the rate hike, Turkey faces a tough road ahead in its efforts to stabilize its currency and control inflation.
In a bold move to tackle double-digit inflation, Turkey's central bank has raised its key interest rate to 30%, marking a significant increase of 500 basis points from its previous rate of 25%. The decision reflects Turkey's commitment to addressing its persistent inflationary challenges.
The Lira's Response and A Battle Against Inflation
The news of the interest rate hike had a noticeable impact on the Turkish lira, causing a slight weakening as it traded at 27.06 against the dollar. The greenback strengthened by 0.3% against the local currency in Istanbul.
Turkey has been grappling with skyrocketing inflation and a weakened currency, largely due to the loose monetary policies pursued by the Ankara government. The Turkish lira has experienced a 30% depreciation against the dollar year-to-date and has lost a staggering 78% of its value against the greenback over the past five years.
In June, Turkey initiated its first key interest rate hike in over two years, signaling a shift towards economic orthodoxy aimed at curbing inflation. This move contradicted previous strategies endorsed by Turkish President Recep Tayyip Erdogan, who had advocated for lower interest rates.
Inflation and Ambitious Targets
Despite efforts to address inflation, Turkey's annual inflation rate surged to nearly 59% in August. Ankara has set an ambitious goal of reducing inflation to 5% in the medium term, even as it anticipates reaching an annual inflation rate of 65% by the end of 2023, up from a forecast of 24.9% just a year ago.
Positive Analyst Reactions
Economic analysts have reacted positively to Turkey's latest interest rate decision. Liam Peach, a senior emerging markets economist at Capital Economics, noted that this move demonstrates policymakers' commitment to tackling inflation. He highlighted that it instills investor optimism and maintains Turkey's sovereign dollar bond spreads near multi-year lows.
Timothy Ash, an emerging markets sovereign strategist at BlueBay Asset Management, characterized the central bank's move as a "solid" decision, acknowledging that Turkey has increased rates by a cumulative 2150 basis points. However, he cautioned that real interest rates remain heavily negative given the high inflation rate.
While Turkey's central bank's actions have been praised, significant challenges persist. Capital Economics expects interest rates to continue rising, potentially reaching at least 35% by year-end. Finance Minister Mehmet Simsek and his team argue that a combination of fiscal tightening, macro-prudential measures, and rate hikes will eventually lead to economic stability and lower inflation. Nonetheless, the path ahead remains challenging as Turkey endeavors to restore its currency and control inflation.