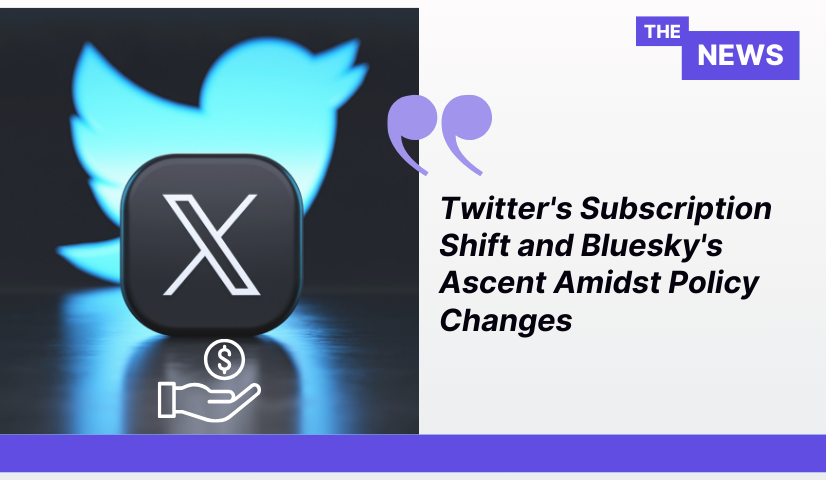 Key Takeaways
Elon Musk's announcement of potential subscription fees for Twitter's new incarnation, "X," aims to combat bots but faces backlash from long-time users.
Bluesky, a decentralized social networking service, led by Twitter former co-founder Jack Dorsey, experiences a surge in registrations as users seek alternatives to X (Twitter).
Twitter's Subscription Controversy
Elon Musk's recent statement during a live conference raised eyebrows. He hinted at the possibility of introducing subscription fees on X, a platform rebranded from Twitter. The primary objective is to combat the presence of bots and the spread of misinformation. While details about the subscription fees remain undisclosed, this shift has unsettled long-time Twitter users who have been accustomed to a free platform.
Bluesky Emerges as an Alternative
As Twitter, now X, grapples with policy changes, Bluesky has gained attention as a viable alternative. Led by Jack Dorsey, a co-founder of Twitter, Bluesky is a decentralized social networking service. Users can access it through a mobile app and, in the future, through ATProtocol for a decentralized social experience.
Elon Musk's subscription fee proposal for X prompted a surge in registration requests for Bluesky, setting a new daily record at 53,585 users. This influx is a significant boost for Bluesky, which was only founded about a year ago. More users mean increased traffic and advertising revenue. Bluesky's web application now records daily visits from over 775,000 people, marking a 30% increase compared to the previous day.
(Image source: Similarweb , TechCrunch)
Bluesky's Position in the Landscape and Its Challenges Ahead
Data from Similarweb indicates that when X experiences issues or policy changes, more users turn to Bluesky compared to alternatives like Instagram Threads or Mastodon. Elon Musk's statements have played a role in driving traffic to Bluesky. However, it's essential to note that, in terms of scale, X remains a social media giant, while Bluesky is an emerging player.
Bluesky currently offers an invite-only registration, which can slow down its user acquisition rate. Some users remain indifferent to Twitter's policy changes. Overcoming user inertia might be a challenge for emerging social networking platforms like Bluesky. As the landscape evolves, both X and Bluesky face critical decisions in their quest to meet user expectations and secure their positions in the digital world.