Key Points
Twitter's U.S. ad revenue plunges 59% after major advertisers leave post-Musk acquisition.
Contradictory claims by Musk add uncertainty to Twitter's future profitability and advertiser return.
Advertiser concerns rise over hate speech and ads appearing alongside controversial content.
New CEO Yaccarino's role crucial in restoring advertiser confidence.
Twitter's projected revenue for this year: $3 billion, down from $5 billion in 2021.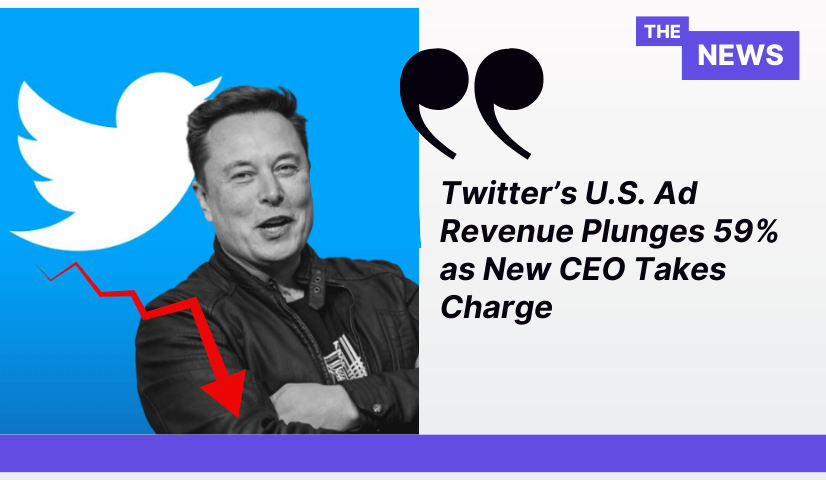 Twitter, the popular social media platform, is facing a significant setback as its U.S. advertising revenue experiences a staggering 59% decline compared to the previous year, according to a report by The New York Times. This decline follows the departure of major advertisers from the platform after billionaire Elon Musk's acquisition, despite his optimistic claims just two months ago that the company was "breaking even."
Decline in U.S. Ad Revenue
The internal data and sources within Twitter reveal that the company's U.S. advertising sales plummeted to $88 million during a five-week period starting from April 1, marking a sharp decline of 59% compared to April 2022. This downward trend is expected to persist throughout May, with Twitter estimating a weekly decrease of at least 56% in U.S. ad revenue compared to the previous year.
Impact on Global Ad Revenue
Insider Intelligence, a reputable research firm, projects that Twitter's global ad revenue for this year will reach approximately $3 billion, indicating a significant 28% decrease from 2022. The impact of Musk's takeover is evident as the top 50 advertisers on Twitter have substantially reduced their spending since October.
Contradictory Claims by Musk
Despite Musk's previous claim in mid-April that Twitter was "roughly breaking even" and that the advertisers who left the platform had returned, his remarks were contradicted during a Wall Street Journal summit in May. While acknowledging that Twitter is not yet profitable, Musk expressed optimism about the company's future profitability.
The decline in Twitter's ad revenue can be traced back to Musk's acquisition of the company for a staggering $44 billion. Within a month of the purchase, a report from Media Matters for America revealed that 50 of Twitter's top 100 advertisers either announced their withdrawal from the platform or completely ceased advertising. This trend continued, with Reuters reporting in January that these top advertisers spent nearly 20% less compared to the previous year.
Changes Under Musk's Leadership
Under Musk's leadership, Twitter has undergone significant changes, including the reactivation of previously banned accounts, relaxation of moderation rules, substantial staff reductions, and the introduction of a subscription service for verified badges. However, reports suggest that advertisers have been concerned about the perceived increase in hate speech on the platform and the potential for their ads to appear alongside controversial content.
New CEO and Departure of Executives
Attention now shifts to Linda Yaccarino, the newly appointed CEO of Twitter. Yaccarino's background as the former chair of advertising sales at NBCUniversal indicates Musk's recognition of the crucial role successful advertising plays in Twitter's future success. In a related development, Twitter recently witnessed the departure of two key executives responsible for advertising and content moderation. This came amid a content moderation controversy involving a movie on gender issues.
As Twitter faces the challenge of regaining advertiser confidence, the change in leadership offers hope for a reputation turnaround. However, the journey to recovery may be arduous, as family-friendly brands such as Apple, Amazon, and Disney reportedly reduce their spending on Twitter ads compared to the previous year. Twitter's projected revenue for this year stands at $3 billion, a significant decrease from $5 billion in 2021.