Key Takeaways

The latest data from the U.S. Bureau of Labor Statistics, released before Wednesday's market opening, revealed that consumer inflation in June was below expectations.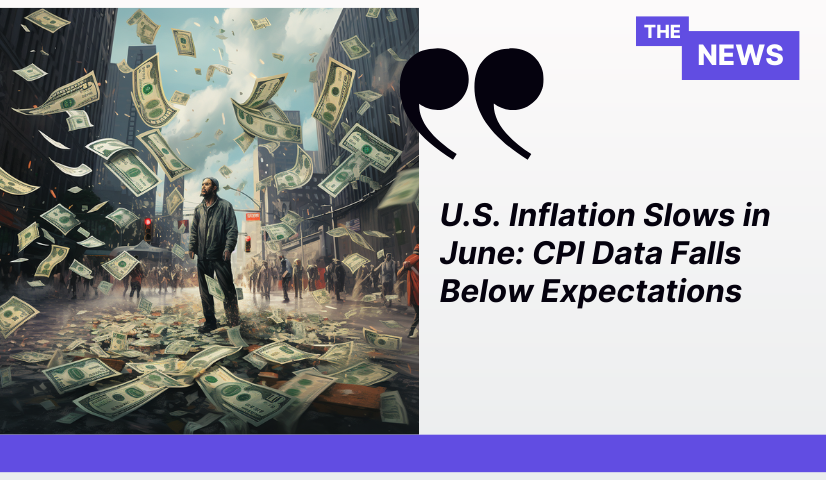 The annualized CPI for June dropped significantly from May's 4.0% to 3.0%, marking a new low since April 2021. The overall monthly CPI slightly increased from May's 0.1% to 0.2%, but still fell short of the expected 0.3%.
Core Inflation Takes a Dive
Excluding the volatile food and energy sectors, core CPI annualized figures dipped below 5.0% for the first time since November 2021, reaching a new low since October 2021. Core inflation dropped from 5.3% in May to 4.8%, falling short of the projected 5.0%.
Decline in Core CPI Month-on-Month
Core CPI month-on-month figures hit a low not seen since September 2021, decreasing from 0.4% in May to 0.2%, below the expected 0.3%. This was primarily due to a decline in airfare and used car prices, which dropped by 8.1% and 0.5% respectively in June.
Mixed Outlook and Market Reactions
Following the release of the data, Thomas Barkin, a member of the Federal Open Market Committee, expressed doubts about the stability of inflation despite a strong labor market. If future data fails to confirm a return to target levels, he would be willing to consider additional policy measures.
Moreover, U.S. stock index futures surged immediately after the data release. According to Investing.com, Dow Jones futures rose over 150 points, S&P 500 futures increased by 0.61%, and Nasdaq 100 futures climbed by 0.87%.
Market Reactions Beyond the U.S.
European stock markets experienced a temporary jump, with the UK market rising over 1.5% and the German market surging by more than 1% following the data release.
On the other hand, the U.S. dollar index futures, which measures the dollar against a basket of six major currencies, faced a significant decline, approaching the 101 level, down 0.55% to 101.17.
In the commodities market, COMEX gold futures briefly soared above $1,950, reaching a high of $1,955.55 per ounce.
The latest CPI figures indicate a moderation in inflation, prompting mixed reactions in the financial markets. The market response suggests a potential positive sentiment driven by the lower-than-expected inflation data.