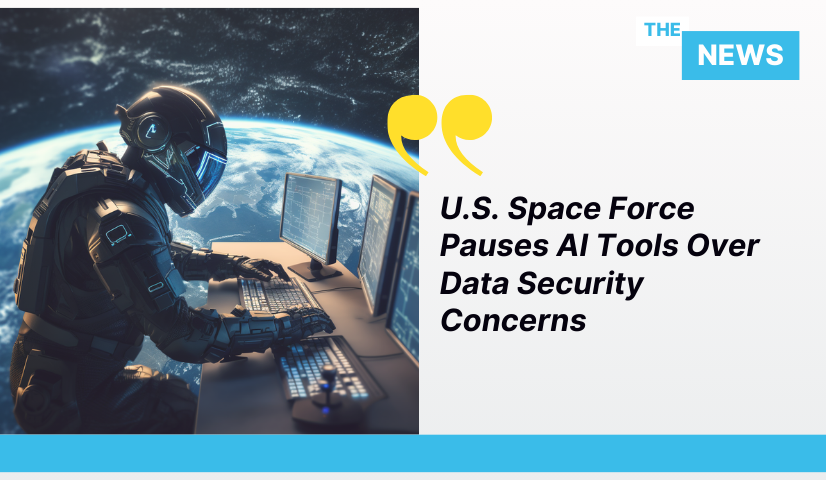 Key Takeaways
The U.S. Space Force has issued a temporary ban on the use of generative AI tools, citing data aggregation risks.
The move comes as the force explores responsible and strategic integration of AI technology into its operations.
Data Security Concerns Prompt Halt
The U.S. Space Force has temporarily suspended the use of web-based generative artificial intelligence tools, including large language models like ChatGPT, over data security concerns. This decision was outlined in a memo dated September 29 and addressed to the Space Force's workforce, known as Guardians.
The memo, which was seen by Reuters, states that personnel are prohibited from using such AI tools on government computers until they receive formal approval from the force's Chief Technology and Innovation Office. The rationale behind the temporary ban is the perceived risk associated with data aggregation.
Generative AI, powered by large language models, has witnessed significant growth in the past year. These models have the capacity to analyze vast amounts of past data to learn and then generate content rapidly in response to prompts. For instance, OpenAI's ChatGPT can swiftly generate text, images, or videos based on simple instructions.
A Revolution in Workforce and Operations
Lisa Costa, the Chief Technology and Innovation Officer of the Space Force, expressed optimism about the potential of generative AI. She stated in the memo that technology has the power to revolutionize the workforce and enhance the ability of Guardians to operate efficiently.
The decision to pause the use of generative AI tools is aimed at ensuring data security and safeguarding sensitive information. The U.S. Space Force, like other military and government entities, recognizes the importance of responsible and secure AI integration.
Temporary Measure for Data Protection
Air Force spokesperson Tanya Downsworth confirmed the temporary ban on the use of generative AI and large language models within the U.S. Space Force. The pause is a strategic measure to protect the data of the service and Guardians. It underscores the force's commitment to maintaining data security and privacy.
Costa mentioned in the memo that her office has initiated a generative AI task force in collaboration with other Pentagon offices. The goal is to explore ways to incorporate this technology into the Space Force's operations in a responsible and strategic manner.
Future Guidance on Generative AI
The U.S. Space Force is actively working on providing more comprehensive guidance regarding the use of generative AI within its operations. The forthcoming guidance will aim to strike a balance between harnessing the potential of AI technology and ensuring data security. It is expected to be released in the next month as the force continues its exploration of responsible and secure AI integration.