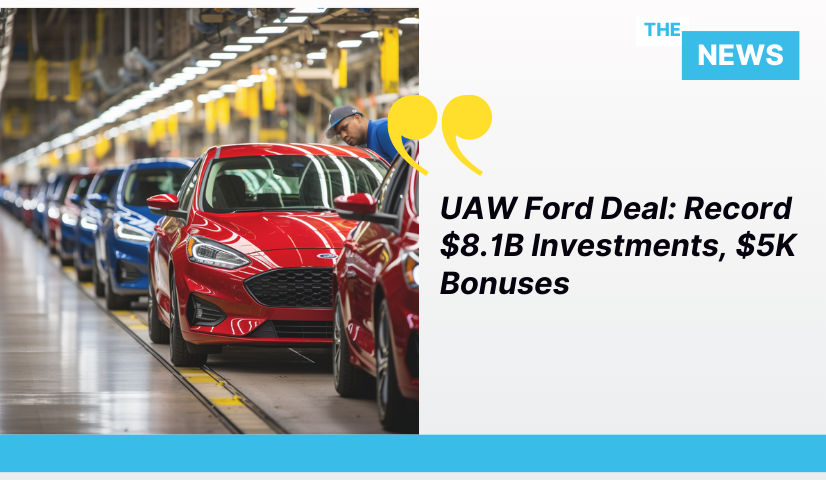 Key Takeaways

UAW-Ford's landmark agreement encompasses $8.1 billion in plant investments, 25% wage increases, and $5,000 ratification bonuses for its 57,000 members.
The agreement is a significant shift with raises, economic gains, and enhanced job security, focusing on long-term benefits and improving working conditions.
UAW-Ford Agreement: Major Milestones in Plant Investments and Gains
The United Auto Workers (UAW) local leaders have given the green light to a momentous agreement with Ford Motor, signaling $8.1 billion in fresh plant investments, including substantial economic gains such as 25% compounded wage hikes and $5,000 ratification bonuses for their 57,000 members. UAW-Ford leaders have revealed the details after local union leaders' approval, aiming to roll out the deal to members for informational meetings and subsequent voting.
Comprehensive Details of the Tentative Agreement
The four-and-a-half-year tentative agreement, initially announced last Wednesday, now enters the crucial phase of being presented to the UAW-Ford members for their feedback and voting. The comprehensive summary and an 800-page contract were released after the local union leaders' approval, which followed targeted strikes against significant automakers, including Ford, GM, and Stellantis. Despite striking a tentative deal with Stellantis, UAW is yet to reach an agreement with GM, although they were close last week.
Investments and Wage Increases within the Deal
Critical investments in the tentative deal feature $2.1 billion for Ohio Assembly and a new electric van, $1.2 billion for a new electric vehicle at Louisville Assembly, $1 billion in Kansas City Assembly, and $900 million for F-150 production and an upcoming electric truck. Notably, the wage increases encompass a 25% hike, starting with an 11% increase upon ratification, followed by increments over the next few years.
UAW's Vision Beyond the Deal: Organizational Goals and Unmet Expectations
UAW President Shawn Fain highlighted the intention to leverage this historic agreement to strengthen union organizing efforts, expanding beyond the conventional "Big Three" Detroit automakers. The four-and-a-half-year deal, ending in April 2028, aligns with May Day, a symbolic decision linked to Workers' Day. The union aims to encourage other associations to synchronize their deadlines with this significant historical period, fostering a unified approach to negotiations in the future.
While the UAW-Ford deal introduces crucial new benefits such as paternity leave, improved job security, and higher 401(k) contributions, it did not fulfill all initial UAW goals, like a 40% pay increase during the deal's terms, a traditional pension system for all workers, and a shorter workweek.