Key Points

The United Kingdom is set to sign the Comprehensive and Progressive Agreement for Trans-Pacific Partnership (CPTPP) in Auckland, New Zealand, next weekend, becoming the first new member to join since the agreement's inception. Several countries, including China, have also expressed their desire to join the CPTPP.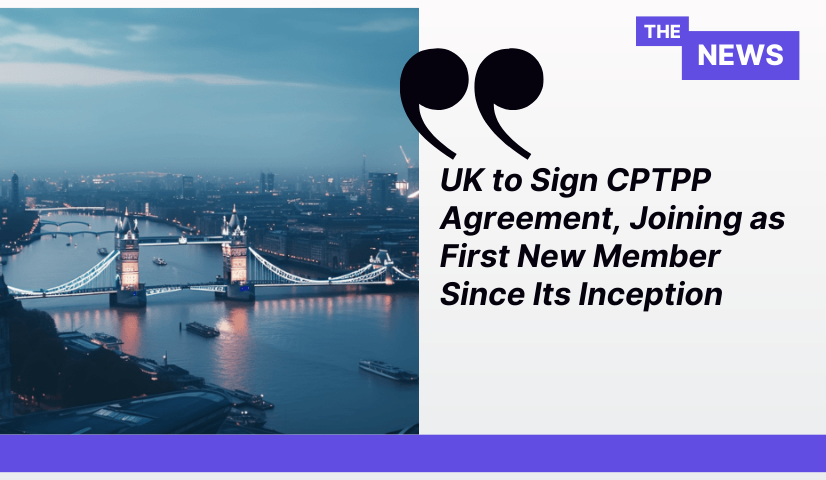 According to Bloomberg, CPTPP member countries will convene a ministerial-level meeting in Auckland from July 15th to 16th. The New Zealand Ministry of Foreign Affairs and Trade's press release stated that the UK would formally sign the CPTPP during this meeting. In a statement, New Zealand's Minister for Trade, Damien O'Connor, emphasized that the UK's entry into the CPTPP would coexist with their existing bilateral free trade agreement.
.
The existing CPTPP member countries include Australia, Brunei, Canada, Chile, Japan, Malaysia, Mexico, New Zealand, Peru, Singapore, and Vietnam. The agreement was initially seen as a means to balance China's growing influence in the Asia-Pacific region. However, with the withdrawal of the United States under former President Donald Trump in 2017, Japan has taken the lead, consistently urging the US to return to the agreement.
Applications from Other Countries
As the UK prepares to join the CPTPP, other countries such as China, Taiwan, Ecuador, Costa Rica, Uruguay, and Ukraine have also applied for membership, showcasing the increasing global interest in the benefits and opportunities provided by the CPTPP.
The United Kingdom's formal signing of the CPTPP marks a significant development as it becomes the first new member since the agreement's establishment. This move highlights the continued relevance and appeal of the CPTPP, as demonstrated by the growing interest from other countries, including China and several nations from different regions. The CPTPP's expansion of membership has the potential to further enhance economic integration and cooperation among its participants, fostering greater trade opportunities and regional stability.