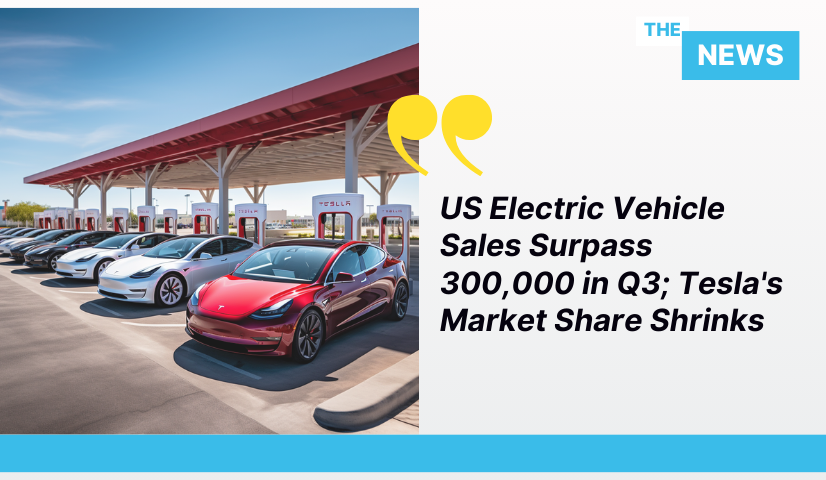 Key Takeaways
Q3 sees over 300,000 EV sales in the US, but Tesla's market dominance falls from 62% to 50%.
Increased competition and price wars push EV sales, bringing down average prices.
Tesla's Market Share Decline
The third quarter marked a historic milestone for electric vehicle (EV) sales in the United States, exceeding 300,000 units for the first time. A report by Cox Automotive revealed this surge, which demonstrates the growing adoption of EVs by American consumers. However, within this impressive growth, industry leader Tesla experienced a decline in its market share, reaching its lowest point on record.
Tesla, a key player in the EV industry, has seen its market share diminish. The company's market dominance fell to 50% during the third quarter, down from 62% in the first quarter of the year. Despite initiating a price war to strengthen its position in the competitive EV market, Tesla's share has slipped. The company anticipates a potential reversal in this trend with the imminent launch of its Cybertruck electric pickup, set to be delivered to customers in the current quarter.
Aggressive Price Competition
In response to the challenging demand environment influenced by high inflation and rising borrowing costs, Tesla and other automakers have resorted to aggressive price cuts. This strategy is a countermeasure aimed at maintaining sales volumes and competitiveness in the growing EV sector.
"Higher inventory levels, more product availability, and downward pricing pressure have helped spur continued linear growth of EV sales in the U.S. market," Cox Automotive reported. This approach has effectively brought down the average EV price from $52,212 in the prior month to $50,683 in September.
The third quarter saw a nearly 50% increase in total EV sales compared to the previous year. These sales accounted for a remarkable 7.9% of total industry sales, indicating a growing preference for electric vehicles among consumers. The rising adoption of EVs is driven by several factors, including an expanding product range, greater availability, and competitive pricing.
Rivian Automotive, a notable player in the EV market, exceeded market expectations by delivering more vehicles in the third quarter. The company also reiterated its annual production target of 52,000 vehicles, demonstrating its commitment to growth and meeting consumer demands.
While Tesla remains dominant in the United States, it recently fell short of market estimates for deliveries in the third quarter. This performance dip was attributed to planned upgrades at its manufacturing facilities, which temporarily halted production. The electric vehicle market continues to evolve rapidly, and there is a growing demand for a wider range of EV options to cater to the increasing interest in electric vehicles, according to industry analysis firm Canalys.