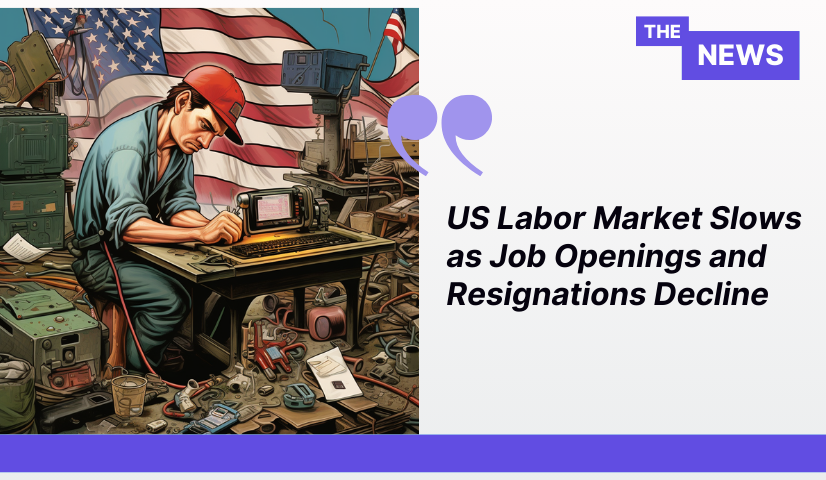 Key Takeaways

US job openings and resignations drop to their lowest levels in over two years.

Federal Reserve likely to maintain current interest rates amid weakening labor market.
US Labor Market Slows Down
The US labor market is showing signs of a gradual slowdown, with job openings hitting their lowest point in nearly 2.5 years, according to the latest data from the Job Openings and Labor Turnover Survey (JOLTS) report released by the Labor Department. The report, published on Tuesday, also highlights a decrease in the number of people quitting their jobs, indicating a decline in confidence in the labor market.
The Conference Board's survey revealed that consumers' perceptions of the labor market have cooled in August, reinforcing the notion of a dwindling labor market. Despite this, the labor market remains tight, with job openings outnumbering unemployed individuals. While the ratio of job openings to unemployment has decreased since June, it still reflects a healthy job market.
Economists are observing a shift in the labor market dynamics, with companies reducing vacancies rather than resorting to widespread layoffs and driving up unemployment rates. This nuanced rebalancing suggests a controlled adjustment in the labor market that may not significantly impact unemployment figures.
Several sectors have witnessed a decline in job openings. The professional and business services sector experienced the largest decrease, followed by healthcare and social assistance. State and local government job openings also saw a decline, with the education sector being notably affected. On the other hand, the information sector saw a rise in unfilled positions, as did the transportation, warehousing, and utilities sector.
Federal Reserve's Cautious Approach
The decline in job openings and growing concerns about the labor market have caught the attention of the Federal Reserve. The central bank is expected to proceed cautiously in its decision-making, with Chair Jerome Powell indicating that interest rates might remain unchanged while awaiting further data to assess the situation.
Financial markets have responded to the news with a positive trend in Wall Street stocks and a decline in the dollar against other currencies. US Treasury prices have also risen as a result of the shifting labor dynamics.
The decrease in job openings has been paralleled by a decline in labor market confidence, as seen through the Conference Board's labor market differential. This change, combined with rising gasoline prices, has weighed on consumer confidence, potentially indicating a slowdown in consumer spending.
Outlook: Economic Soft Landing
Many economists view the current scenario as indicative of a slowly cooling labor market that aligns with an economic soft landing. This outlook suggests a controlled decrease in inflation without triggering widespread job losses, characteristic of recessions.
Hiring has also been affected, dropping to its lowest point since early 2021. Resignations decreased significantly, particularly in industries like accommodation and food services, as well as wholesale trade, transportation, warehousing, and utilities. The quits rate, a measure of labor market confidence, has also dropped, signaling reduced job-hopping.
The US labor market is showing signs of a gradual slowdown, with decreasing job openings and resignations. While the Federal Reserve is likely to maintain current interest rates in light of these developments, economists see this as a controlled adjustment that could lead to a stable economic soft landing. As the labor market dynamics evolve, their impact on consumer confidence and spending remains a key factor to watch.