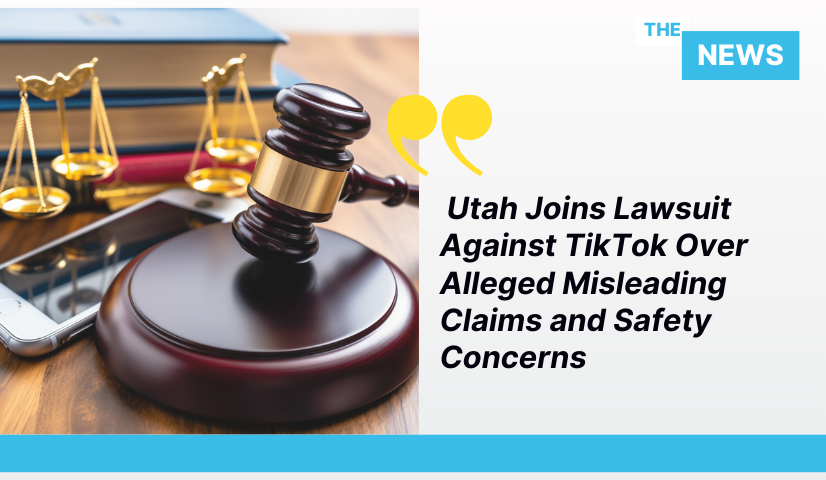 Key Takeaways
Utah has filed a lawsuit against TikTok, alleging that the platform used deceptive practices and made false safety claims to its users.
The state's action aligns with recent lawsuits filed by Arkansas and Indiana, highlighting the growing concern among states regarding tech companies' responsibilities.
Utah Takes Legal Action Against TikTok
Utah has joined the ranks of states taking legal action against popular social media platform TikTok. The state alleges that TikTok misled its users regarding its ties to its Chinese parent company and falsely promoted its platform as a safe space. This lawsuit marks Utah's commitment to holding social media companies accountable for the potential harm they may inflict on users, especially adolescents.
While TikTok has already faced similar lawsuits from Arkansas and Indiana, Montana has adopted a more stringent approach by banning the app entirely, a decision that has faced challenges from TikTok and its content creators. Notably, the proactive stance taken by individual states regarding TikTok contrasts with the relative stagnation in Washington, where proposed legislation that could lead to a nationwide TikTok ban has encountered roadblocks following initial bipartisan support. This divergence underscores the role of states in taking the lead on pressing tech policy issues, given the complexities of pushing legislation through Congress.
Utah's Stand Against Misleading Practices
Utah Governor Spencer Cox emphasized the detrimental impact of social media on adolescents, referencing a recent report by the U.S. Surgeon General, as he announced the state's lawsuit against TikTok. The complaint, filed in state court by Attorney General Sean Reyes, alleges that TikTok violated Utah's consumer protection laws on three fronts:
Deploying an Addictive Product: TikTok is accused of promoting an addictive product with design features deliberately intended to manipulate children, echoing broader concerns about social media's influence on young users.
Misrepresenting Safety: The platform is alleged to have misrepresented its safety measures, deceptively claiming to provide a secure digital environment for children, while failing to do so in practice.
Deceptive Claims about Its Parent Company: The lawsuit further accuses TikTok of misleading consumers about the extent of its relationship with its China-based parent company, ByteDance.
TikTok has not yet responded to the lawsuit or its specific allegations.
The concerns about TikTok's ownership by a China-based company have been a focal point of numerous government officials' apprehensions. This stems from the potential for Chinese law to compel companies operating in the country to disclose internal information in response to national security concerns.
In addition to these concerns, the lawsuit addresses features of TikTok's platform, such as the vertical swipe for loading new videos, which is likened to a slot machine designed to encourage users to keep coming back for a dopamine rush.
Utah's Active Approach to Protecting Youth Online
Utah has been actively seeking to safeguard its residents, particularly children, from the perceived negative effects of social media. Earlier this year, Governor Cox signed two new laws aimed at imposing extensive restrictions to protect young users. These restrictions include limiting minors' access to social media during specific hours, requiring age verification to maintain an account, and granting parents access to their children's accounts, including private messages.
However, these measures have faced criticism from privacy advocates and LGBTQ+ rights supporters, who argue that they could lead to more invasive age verification practices and potentially put children in abusive households at risk. The lawsuit against TikTok further underscores Utah's commitment to addressing these concerns and holding social media platforms accountable for their actions.