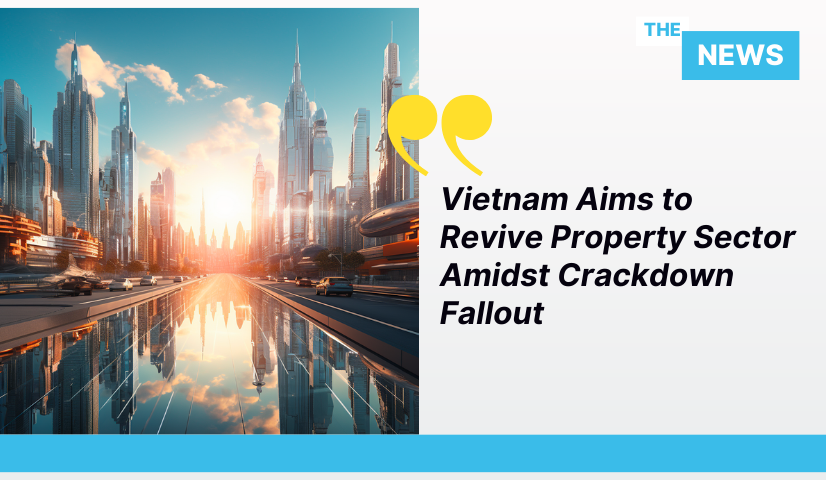 Key Takeaways

Vietnam's property sector faces challenges due to a crackdown on corruption and anti-graft measures, leading to a decline in real estate developers' bonds and economic uncertainty.

The government's efforts to curb risks and address contagion led to distressed real estate bonds and a halt in many development projects.

Economic recovery from the pandemic is impacted in Vietnam,the Government is prompting discussions on potential measures to support the property market and stimulate growth.
Vietnam's Property Sector Under Pressure
Vietnam's property sector is grappling with setbacks caused by a combination of anti-graft actions and measures designed to mitigate economic risks. The government's crackdown on corruption, which included high-profile arrests of property tycoons involved in bond market fraud, has created instability. Consequently, international bonds issued by major property developers have suffered a substantial decline, trading at significantly reduced values.
Parallel with China's Woes
Vietnam's property woes echo those of China, where a liquidity crisis in the real estate sector has persisted due to efforts to curb leverage. This has triggered defaults among prominent developers, with even industry giant Evergrande filing for bankruptcy protection. Similarly, Vietnam's property developers expanded aggressively before the pandemic, leveraging domestic banks and bond markets to fund growth. However, interconnected ownership structures between developers and concerns about lenders' exposure heightened contagion risks.
Cascade of Consequences and Government Responses
The upheaval had a ripple effect on the entire Vietnamese economy, as highlighted by the arrest of Van Thinh Phat Holdings' chair, Truong My Lan. This event caused a run on Saigon Commercial Bank, only halted by the intervention of the central bank. The resulting panic triggered a fire sale of real estate bonds, many of which entered distressed territory. Numerous smaller developers faced bankruptcy, and numerous projects were suspended. Notably, the crisis dampened real estate demand, as consumers hesitated to invest in projects by struggling developers.
Economic Implications and Government Response
Vietnam's economy, one of Asia's fastest-growing, has been impacted by these challenges. The World Bank downgraded its growth projection from 8% expansion in the previous year to 4.7%. In response, Vietnam's Communist party-run government is considering actions to bolster the property market and foster economic recovery. The 25th session of the National Assembly Standing Committee held discussions on potential measures to support the property market, though no official announcements have been made yet.
Seeking Solutions Amid Uncertainty
Experts anticipate potential incentives for banks and a relaxation of rules to address the property market's issues. The government's efforts to stimulate demand include rate cuts, policies to aid issuers, and substantial allocations for social housing. Nonetheless, doubts linger about Vietnam's path to recovery. A draft land law aims to loosen price controls on land sales, but criticism persists for not allowing property to be collateral for funds from foreign lenders.
Navigating Uncharted Territory
Eddie Middleton, Managing Director at Alvarez & Marsal, notes the difficulties in resolving Vietnam's property crisis due to the nation's inexperience with restructuring. The cautious approach to using available legislation in favor of negotiated solutions has slowed progress. As Vietnam grapples with this challenging period, it's clear that the market faces a steep learning curve, and the recovery trajectory remains uncertain.