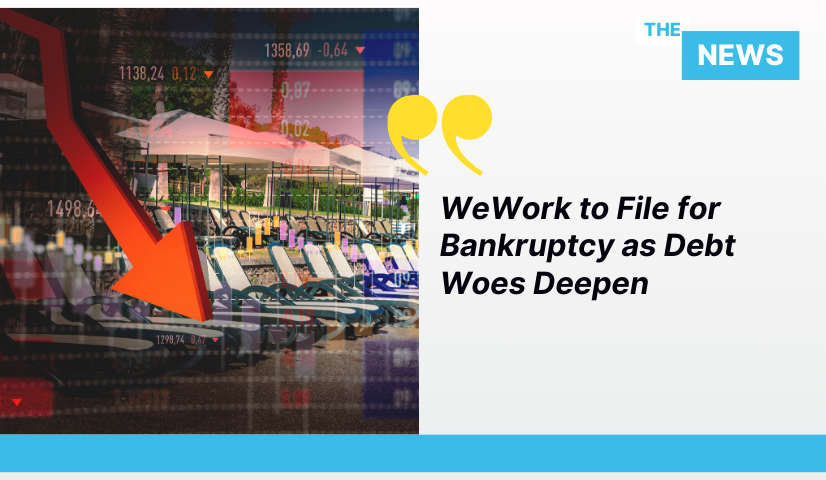 Key Takeaways

WeWork is set to file for bankruptcy in the coming week due to its mounting debt and financial challenges, causing its shares to plummet.
The flexible workspace provider, once valued at $47 billion, faces a stark reversal of fortune, with significant implications for investor SoftBank.
WeWork's Bankruptcy Filing: A Financial Dilemma Unveiled
WeWork, the flexible workspace provider, is on the verge of filing for bankruptcy, a stark development reflecting the company's mounting debt and extensive financial challenges. As WeWork grapples with these formidable obstacles, its imminent bankruptcy filing will have significant implications for the real estate industry and its major investor, SoftBank.
WeWork has found itself in a precarious financial position, which has led to its decision to file for bankruptcy. The company's shares witnessed a staggering 32% decline during extended trading, driven by reports initially disclosed by the Wall Street Journal. These reports, combined with WeWork's ongoing financial turmoil, have led its shares to plummet by approximately 96% over the course of this year.
A Chapter 11 Petition on the Horizon
To address its financial woes, WeWork is contemplating the filing of a Chapter 11 petition. The location for this bankruptcy filing is set to be New Jersey, as reported by the Wall Street Journal, based on information provided by insiders. WeWork has not issued any official comments on this matter.
Postponement of Debt Payments
Earlier on the same day, WeWork disclosed an agreement with creditors to temporarily postpone debt payments, with the grace period reaching its conclusion. The company's financial challenges are exacerbated by its substantial debt obligations. WeWork had accrued net long-term debt of $2.9 billion by the end of June, alongside more than $13 billion in long-term leases. These financial liabilities coincide with a period in which rising borrowing costs are creating challenges for the commercial real estate sector.
From High Valuation to Financial Struggles
WeWork's impending bankruptcy filing represents a notable reversal of fortune for a company that, just a few years ago in 2019, boasted a private valuation of $47 billion. It also underscores a significant challenge for its principal investor, SoftBank, which has committed substantial resources to support the startup.
The woes of WeWork began when its plans for an initial public offering in 2019 fell apart due to investor skepticism over its business model. The company's approach involved securing long-term leases and subleasing spaces for shorter terms. This, coupled with substantial losses, caused concerns among investors.
Even when WeWork did manage to go public in 2021, it did so at a considerably lower valuation. SoftBank, a major backer, invested billions in supporting the startup. However, despite these efforts, the company continued to experience financial losses.
Pivotal Moment for WeWork
The impending bankruptcy filing by WeWork is a pivotal moment for the company and its stakeholders. It underscores the extent of the financial challenges it has faced and marks a significant shift from its earlier valuation and reputation as a major player in the co-working industry. The consequences of WeWork's bankruptcy filing are poised to reverberate across the business landscape, affecting the real estate sector and the fortunes of its investors.