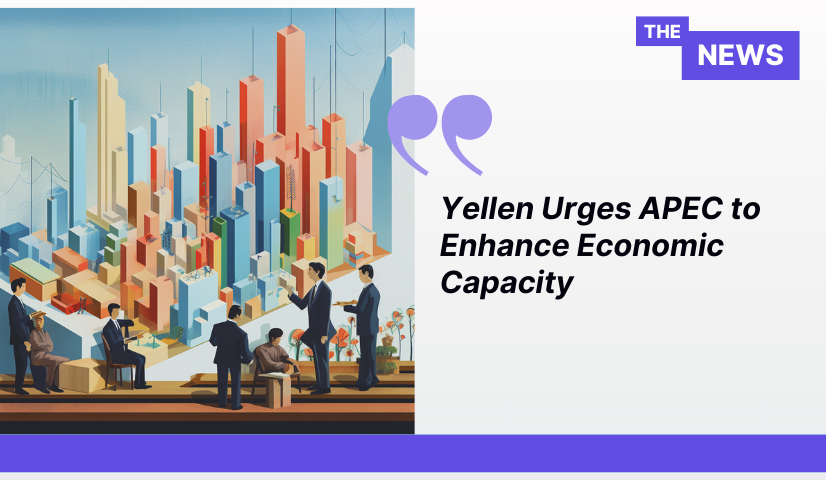 Key Takeaways

Janet Yellen calls for APEC nations to boost economies and support low-carbon transition.
APEC discussions focus on inclusive growth, net-zero emissions, and digital asset regulation.
Yellen's Address to APEC Finance Ministers
U.S. Treasury Secretary Janet Yellen, in her opening remarks at the Asia Pacific Economic Cooperation (APEC) finance ministers' meeting, stressed the importance of enhancing the productive capacity of economies. She emphasized the role of APEC nations in tackling global challenges due to their economic influence.
Following the APEC Secretariat's forecasts of a global economic slowdown and persisting inflation, Yellen urged the 21 APEC economies to collaborate towards creating a resilient and peaceful Asia-Pacific community. Yellen noted that the APEC's economic dynamism is crucial for addressing these challenges.
 Focus on Sustainable and Inclusive Growth
Yellen highlighted the need for sustainable growth paths, urging improvements in labor supply, innovation, and infrastructure investment. She emphasized the necessity of balancing environmental protection with economic growth, advocating for clean energy and leveraging emerging technologies for financial market safety.
Upcoming High-Stakes Meetings
The APEC finance ministers' meeting sets the stage for the subsequent APEC leaders' summit and a critical meeting between U.S. President Joe Biden and Chinese President Xi Jinping. These meetings aim to mitigate tensions and foster cooperation between the world's two largest economies.
In recent discussions, Yellen agreed with China's Vice Premier He Lifeng to intensify communication while also urging China to address issues related to Russia's Ukraine conflict. The APEC meeting agenda includes enhancing workforce participation, investing in infrastructure and research, and accelerating efforts towards net-zero emissions.
Sustainable Energy and Digital Assets
Yellen highlighted the Just Energy Transition Partnerships for Vietnam and Indonesia as exemplary initiatives. These partnerships, funded by G7 countries and private investors, aim to support sustainable energy transitions. Discussions also revolve around developing carbon markets and aligning financial firms' net-zero pledges with global temperature goals. The responsible development of digital assets forms a crucial part of these discussions.