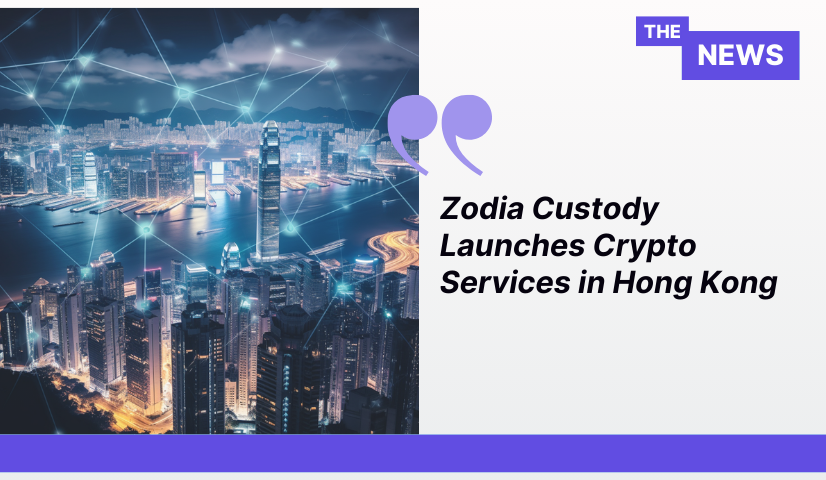 Key Takeaways

Zodia Custody, linked to Standard Chartered, enters Hong Kong, eyeing institutional demand for crypto services.
Hong Kong's growing interest in crypto, despite China's anti-crypto stance, encourages regulatory adaptation.
Hong Kong Expansion of Zodia Custody
Zodia Custody, the crypto security firm under the umbrella of British banking giant Standard Chartered, has revealed its strategic expansion into Hong Kong, marking its entry into the Asia-Pacific market. Established in 2020, Zodia facilitates secure crypto storage for financial institutions.
Julian Sawyer, CEO of Zodia, emphasized the firm's targeted entry into the Hong Kong market. Hong Kong boasts institutional, rather than retail, demand for crypto, making it an ideal fit for Zodia's services. Sawyer highlighted the local government's forward-looking stance on digital assets and Hong Kong's aspirations to become a significant crypto hub.
Aggressive Asian Expansion
Zodia's move into Hong Kong is the latest in its series of expansions across the Asia-Pacific. With recent launches in Japan, Singapore, and Australia, the company aims to extend its institutional-grade services beyond these markets. The firm, partially owned by Standard Chartered, Northern Trust, and Japan's SBI Holdings, strategically expands into jurisdictions exhibiting substantial institutional demand.
Hong Kong's Crypto Evolution Amidst Regulatory Shift
While China banned bitcoin trading and mining, Hong Kong is gradually embracing crypto assets. The Hong Kong Securities and Futures Commission introduced a regulatory framework earlier this year, enabling companies to apply for registration, signaling a shift towards regulated crypto services. Presently, only OSL Digital and Hash Blockchain possess licenses under the SFC.
Phased Approach to Hong Kong Services
Zodia is approaching its expansion into Hong Kong methodically. Initially, the firm plans to provide limited crypto asset services to its Hong Kong clientele. Furthermore, Zodia's discussions with the SFC and the Hong Kong Monetary Authority are underway to explore regulatory compliance within the financial district.
This strategic move by Zodia Custody aligns with Hong Kong's evolving regulatory landscape, hinting at the region's potential to become a significant crypto-friendly destination despite neighboring China's anti-crypto policies. As the company steadily introduces its services in Hong Kong, the expansion reflects a broader shift towards regulated crypto environments within the Asia-Pacific region.