Key Takeaways:

Discover the top 5 crypto copy trading platforms revolutionizing investment strategies.

Understand how to make profitable choices and manage risks in the dynamic crypto trading landscape.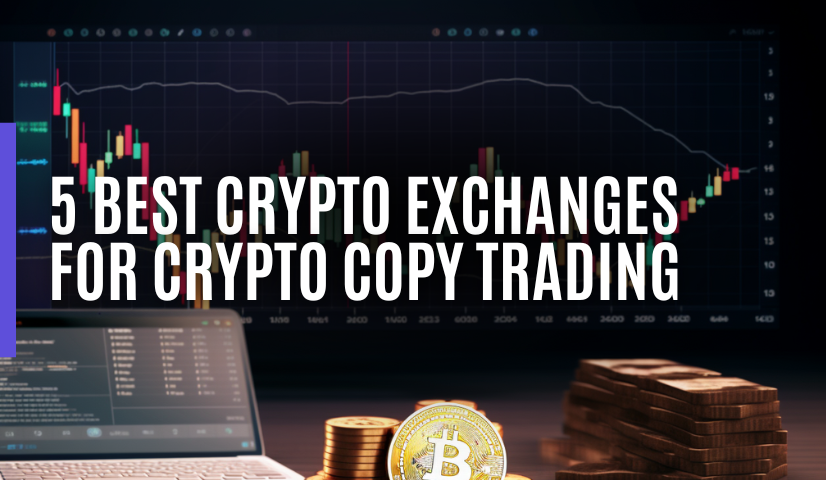 Introduction
Dreamt of having a mentor guide your investment journey through the complex crypto world? Enter copy trading, a transformative approach reshaping cryptocurrency trading. Picture having an experienced trader whisper strategies in your ear as you navigate the thrilling domain of crypto investments.
In this extensive guide, we're unveiling the top 5 crypto copy trading platforms. These platforms transcend user-friendliness and diversified portfolios by infusing engaging social interactions, adding a vibrant twist to your trading journey. Let's plunge into the future of trading!
CoinW: A Gem in the Crypto Realm
In the realm of cryptocurrencies, CoinW shines brightly as a centralized exchange, securing an impressive #15 rank on the BitDegree Exchange Tracker. With a daily trading volume exceeding $15 billion and an equivalent liquidity pool, CoinW is a significant player in the crypto market. The exchange supports over 1000 cryptocurrencies and a wide range of trading options, establishing itself as more than just a trading platform. Launched in 2017, CoinW features spot and futures markets, copy-trading, and direct cryptocurrency purchases, providing a comprehensive suite of services. Users can also contribute liquidity to pools and participate in the earnings program.
CoinW leverages state-of-the-art technology, substantial liquidity, and an extensive range of supported cryptocurrencies to proudly serve over 9 million users globally. This firmly places us among the foremost entities known for security and reliability in the crypto space.

Pros:
Diverse Asset Range: Trade Bitcoin and a myriad of altcoins, with the asset list continually expanding.

Competitive Fee Structure: Takers and makers start with a 0.2% fee, which decreases with higher trading volumes.

Rewarding Referral Program: Users can earn USDT through the referral program, enriching their trading experience.
Cons:
Support Limitations: Customer support primarily available through Telegram, Discord, Twitter, or LiveChat.
Promotions:
As one of CoinRank's affiliate partners, CoinW offers a special bonus for CoinRank's users. From 09/23/2023 to 12/31/2023, by signing up with our referral code, users can enjoy USDT 500 sign-up rewards.
OKX: Where Innovation Meets Smart Trading
Imagine a platform that transcends being merely a cryptocurrency exchange—that's OKX for you. It's a nurturing community fostering learning and growth within the crypto trading sphere. Whether you're a rookie or a seasoned trader, OKX provides an intuitive interface catering to all levels of expertise.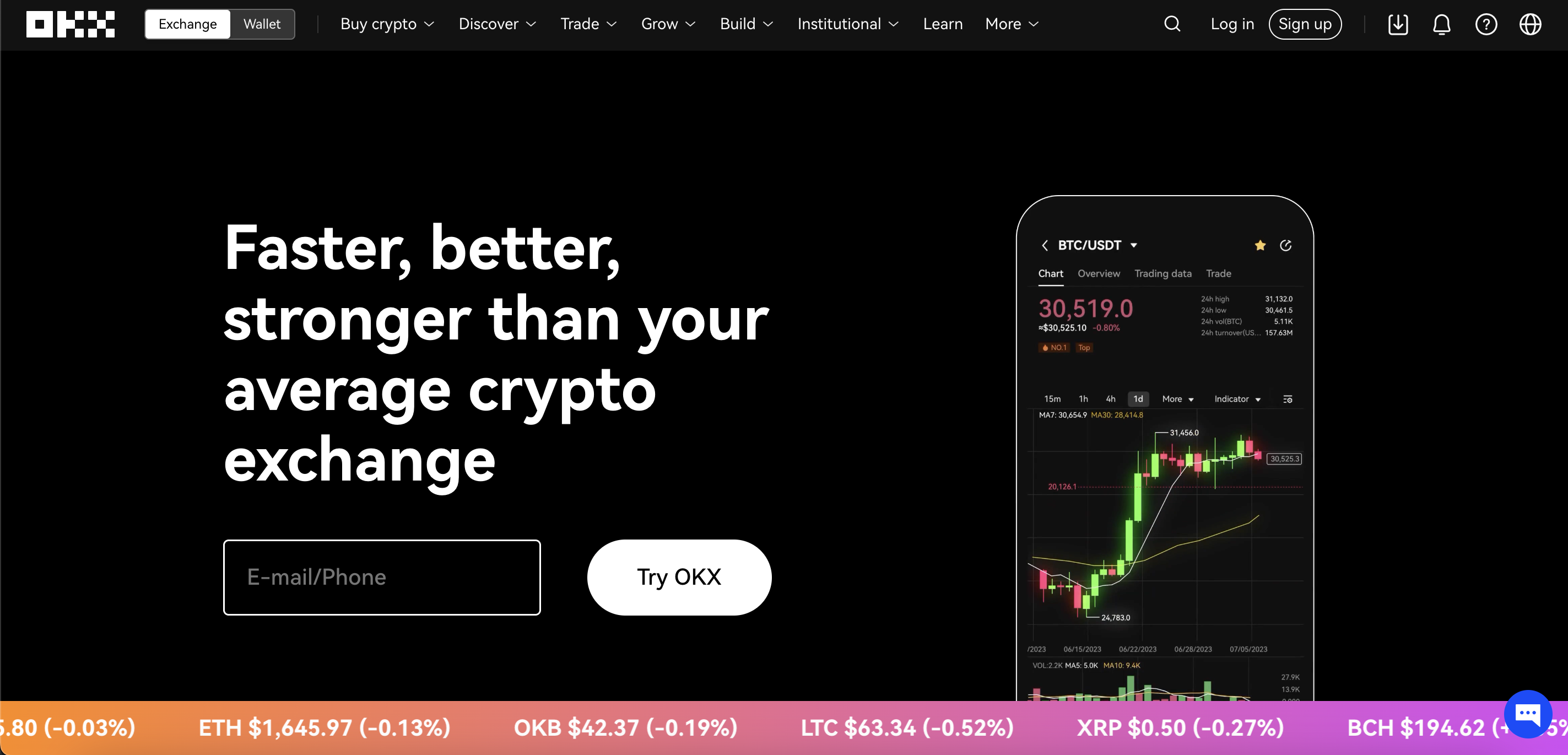 Pros:
Intuitive Interface: OKX offers a beginner-friendly interface for a seamless trading experience.

Diverse Trading Pairs: Access over 600 trading pairs, enabling effortless portfolio diversification.

Transparency & Insights: Gain confidence through comprehensive statistics of lead traders, refining your trading approach.
Cons:
User Experience Enhancement Needed: Some users highlighted areas for improvement in the platform's visibility and prominence.
eToro: Bridging the Gap Between Crypto and Social Interaction
eToro isn't just a crypto trading platform; it's a bustling community where traders interact, share insights, and replicate each other's successful strategies. It epitomizes a social network dedicated to trading, perfect for both beginners and seasoned traders looking to immerse themselves in a vibrant trading community.
Pros:
Engaging Social Features: eToro is more than just a trading platform—it's a community where traders share knowledge, experiences, and strategies.

Simplicity at Its Best: The simplicity of eToro's interface ensures even trading novices can navigate and benefit from its features.

Verified & Established Traders: Access thousands of verified and established traders, enhancing your chances of success.
Cons:
Deposit Limitations: Lack of direct support for crypto deposits, which could be a drawback for some users.
ByBit: Unleashing Potential through User-Friendly Trading
ByBit stands out by providing a user-friendly interface, making it an excellent choice for traders new to the crypto world. With features allowing leverage of up to 100x, ByBit offers exciting opportunities to diversify and amplify your portfolio.
Pros:
Intuitive Interface: ByBit offers an intuitive interface, perfect for those new to crypto trading.

Leverage Opportunities: Traders can amplify their gains with leverage up to 100x, potentially maximizing their profits.
Cons:
Availability Limitations: Unavailable in the US, limiting access for some traders.

Gearing Up for Profitable Crypto Copy Trading
Can Crypto Copy Trading Make You Money?
Now, let's address the golden question: Can crypto copy trading make you money? The resounding answer is yes! Crypto copy trading has the potential to be profitable, but it's important to note that it's not a guaranteed pathway to endless wealth. Success in this realm hinges on your approach and consideration of critical factors:
Your Choice of Provider:
Opt for a copy trading provider with operations supported by top regulatory licenses.
Fees Involved:
Keep a close eye on the commissions charged. High fees can eat into a significant portion of your trading profits, so choose wisely.
Risk Management:
The best crypto copy trading platforms provide tools to manage risk efficiently. Set limits and criteria to ensure you don't lose your entire investment if the professional trader's trades take an unexpected turn.
Summary
In the ever-changing market scenario, a trader's past performance might not always accurately predict future success. Remember, no form of investing is entirely risk-free. There will be gains, and yes, there might be losses too. Your journey to profitable crypto copy trading is an exciting adventure, so buckle up and trade intelligently!