Key Takeaways

Tesla plays a significant role in the growing electric vehicle market, with projections of substantial future growth.
Recent financial results fell below expectations, leading to concerns about Tesla's stock performance and profitability.
Tesla's innovative technologies, including Integrated Die Casting and Dojo Supercomputer, offer insights into the company's unique strengths and potential growth opportunities.
In 2022, the global milestone of over 10 million new energy vehicles (BEV + PHEV) was reached. According to estimates from the IEA and the China Association of Automobile Manufacturers (CAAM), 2023 is expected to see a 44% year-on-year growth in new energy vehicles, reaching 15 million units. Despite the United States facing a high-interest rate environment, a slowdown in the European economy, and China's post-pandemic recovery falling short of expectations, it is still projected that in 2024, the new energy vehicle market will continue to grow by 32.5%, reaching 19.87 million units, accounting for 24.2% of the overall automobile market. Within two years, the new energy vehicle market is set to double. Although the growth rate may shrink, it remains substantial.
Tesla has consistently been the most prominent star in the realm of new energy vehicles. What sets Tesla apart, and what are the expectations for its future? Let's dive into these questions today.
Tesla's Profile and Vehicle Lineup
Source: CoinRank
Established in 2003 and headquartered in Palo Alto, California, USA, Tesla primarily designs, develops, manufactures, and sells electric vehicles and their powertrain components. In addition to its electric vehicle business, Tesla is also a leading company in global clean energy storage technology, charging infrastructure, power battery technology, and autonomous driving software.
Here we introduce five of Tesla's main electric vehicle models:
The Model S is a high-performance luxury electric sedan and was released in 2008, with deliveries starting in June 2012.
The Model S used to be the world's first luxury all-electric sedan. It boasts a robust chassis structure, near 50/50 weight distribution, exceptional low center of gravity, sports car-like speed and agility, unparalleled range, and safety performance. The model offers a new driving experience for luxury-performance sedans.
The Model S Plaid, a high-performance variant, comes with all-wheel drive and three motors, achieving supercar-level acceleration from 0 to 100 km/h in just 2.1 seconds. The model  S features unique independent control of front and rear engines for unmatched traction control under various conditions.
The Model X is a seven-seat all-electric SUV with distinctive Falcon Wing doors, introduced in 2012 and available for delivery starting in 2015.
The Model X is Tesla's flagship all-electric sport utility vehicle, offering all-wheel drive and spacious seating, accommodating up to seven adults and their luggage.
The Falcon Wing doors of the Model X provide easy access to the second and third-row seats, and the massive panoramic windshield offers breathtaking views. An improved sunshade and UV-blocking glass give a broader field of vision for both the driver and passengers.
The Model Y is Tesla's pure electric crossover SUV, essentially a five-door version of the Model 3 sedan. It is characterized by its sturdy chassis structure, near 50:50 weight distribution, excellent center of gravity, a sharp acceleration, and handling.
The Model Y shares a large glass roof, featuring a 15-inch central touchscreen with daytime and nighttime modes for improved visibility. The screen includes digital instrumentation and steering wheel controls, seamlessly integrating media, navigation, communication, cabin control, and vehicle settings.
The Tesla Semi Truck is an electric heavy-duty truck introduced in November 2017, equipped with advanced autopilot features as Standard equipment and offering semi-autonomous capabilities. It primarily targets large customers, including PepsiCo.
The Semi Truck features a 1,000V architecture and supports up to 1,000kW (1MW) charging power at the Tesla V4 Supercharger, enabling rapid charging to 70% in just 30 minutes. It has two battery capacity versions, offering standard and long-range options.
The Tesla Cybertruck is an all-electric pickup truck. Tesla introduced three models during its unveiling: a Basic single-motor rear-wheel-drive version with a range of 400 km, a 0-100 km/h acceleration time of 6.5 seconds; a performance dual-motor all-wheel-drive version with a range of 480 km and a 0-100 km/h time of 4.5 seconds; and a top-performance triple-motor all-wheel-drive version with a range of 800 km and a 0-100 km/h time of 2.9 seconds.
The Cybertruck was unveiled in 2019 and experienced multiple timeline delays. However, in 2023, it finally entered official production and began deliveries in the third quarter of the same year.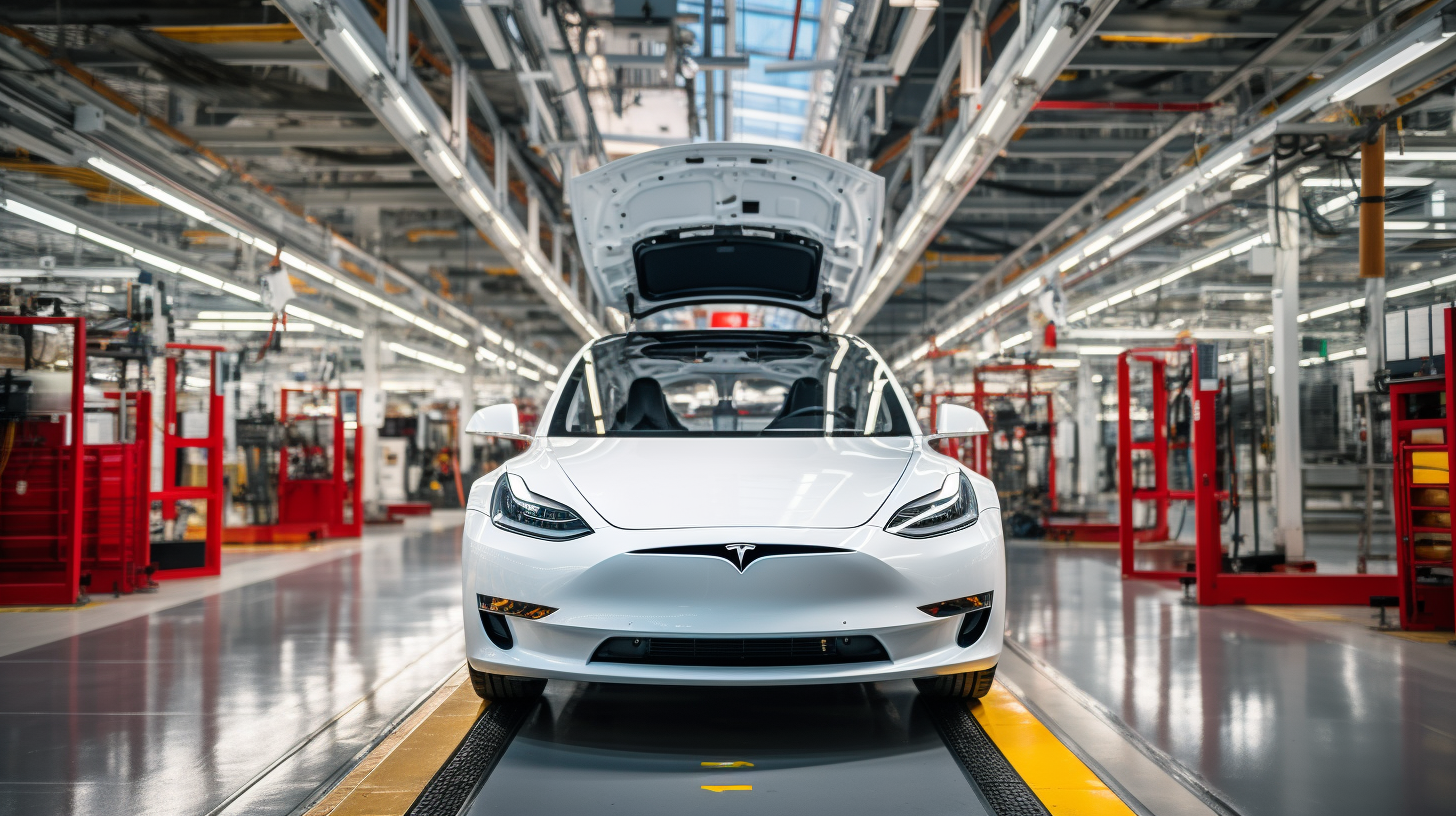 Tesla Financial Report Analysis
Recently, Tesla released its Q3 financial results, which showed revenue, earnings, and gross margins falling below Wall Street's adjusted expectations. Following the financial report, Tesla's stock price dropped by 13% in the two trading days and 15% for the entire week.
Well-known Wedbush analyst, Dan Ives, even described this as a catastrophic earnings conference call. Elon Musk's pessimistic tone, attributing issues to the macroeconomic environment, and the unexpected challenges in Cybertruck production have raised concerns. While Tesla expects growth in output and deliveries for Q4 and 2024, aiming to achieve an annual delivery goal of 1.8 million vehicles, it may face significant gross profit and earnings challenges in a high-interest-rate environment.
Due to continuous price reductions, Wall Street is closely watching Tesla's automotive gross margin, which was reported at 16.3%, falling below the expected 17.7%. The operating profit margin is now at 7.6%, already lower than the average of Japan's three major automakers at 7.8%. Despite a 27% year-over-year increase in delivery numbers, earnings per share (EPS) fell by 22.6%, and revenue only increased by 8.8%, indicating that price reductions have outpaced cost reductions.
Even more problematic is Elon Musk's disclosure of the production difficulties in Cybertruck production, going as far as saying that producing the Cybertruck might be digging Tesla's own grave. It is expected to take at least 12 to 18 months to achieve positive cash flow from the start of production, and an annual production capacity of 250,000 units may only be reached by 2025. In a high-interest-rate environment, the outlook for 2024's gross margins and earnings growth may not be optimistic, and the short-term impact may have just begun.
The following are the critical points from Tesla's financial conference call.
Key Points from Tesla's Financial Conference Call
1. Maintain the annual delivery target of 1.8 million units unchanged.
2. Q4 gross margin may still be affected by the ramp-up of upgraded factory production capacity and the impact of Cybertruck mass production. Additionally, Tesla may continue to reduce prices to achieve the 1.8 million delivery target.
3. Musk predicted that in the most ideal scenario, Cybertruck could achieve positive cash flow within 12 to 18 months, with an expected goal of reaching an annual production capacity of 250,000 units by 2025. The mass production challenges for the Cybertruck are substantial.
4. The production of the Cybertruck requires the 4680 battery, and it is expected that Phase 1, with a total of 5 production lines, will only enter mass production by the end of 2024 (with an estimate of only one 4680 battery cell production line in Texas in the first half of 2024).
5. Musk is not considering offering different levels of Full Self-Driving (FSD) and expects it to be challenging to license FSD to other car manufacturers.
6. While energy storage has been a growth highlight this quarter, the CFO cautions that the business itself has a "lumpy" nature. As the former CFO Zach mentioned in the last financial report, energy storage is project-based and lacks revenue consistency.
Tesla Services and Highlights: Integrated Die-Casting and Dojo Supercomputer
Tesla's Unboxed Assembly Process is a revolutionary assembly system aimed at reducing production costs. This new technology has helped Tesla gain increasing recognition from many automakers. Tesla is at the forefront of automotive manufacturers as well.
Notably, the Tesla Model Y produced at the Shanghai Tesla Gigafactory has successfully implemented the integrated die-casting technology for its underbody assembly system. This innovative approach allows for rapid casting, resulting in over 10% weight savings and a 40% reduction in costs compared to traditional methods. This new technology is at the core of Tesla's Unboxed Assembly Process, a revolutionary assembly system.
Revolutionary Body Casting
Some experts in the market believe that possessing this new technology enables Tesla to develop a new vehicle from scratch in as little as 18-24 months, while most of its competitors currently require 3- 4 years. This capability is expected to drive further the rapid expansion of the electric vehicle market to new heights.

Dojo utilizes custom chips highly optimized by Tesla itself to build its own supercomputer, which is also used to train Tesla's fleet and process the data returned by these vehicles.
Training efficiency has significantly improved with increased computing power and processing speed, and algorithms have accelerated their maturity. Compared to using A100 chips, this is expected to substantially accelerate Tesla's timeline toward achieving fully autonomous driving. Payment rates and Average Revenue Per User (ARPU) for software business (FSD licensing, etc.) and shared mobility services (Robotaxi, etc.) have significantly increased. 
American foreign capital believes that Dojo is actually a product that Tesla has been working on since the very early stages. Its technological leadership is closely comparable to Nvidia's A100. The greater significance of Dojo's large-scale production and deployment lies in signalling that autonomous driving has indeed entered the era of large-scale models. Data and computing power are the core capabilities driving advancements in autonomous driving, making it one of the most critical directions for large-scale AI applications.
Advice for Investing in Tesla's Stock 
For Tesla shareholders, Q4 and even 2024 must be weathering short-term stock price fluctuations and macroeconomic challenges. For those investors who have not yet invested but are evaluating the opportunity, this period should be seen as a chance to position themselves for growth in 2025.
Considering Tesla's 2024 performance, the P/E ratio may not be low. However, a higher valuation still appears reasonable, given Tesla's leadership position in the electric vehicle (EV) industry. The critical risk lies in the reasonableness of Wall Street's estimates for 2024 earnings, especially considering that the selling price of the Cybertruck has not been disclosed, and there is a lack of foundation for margin and profit calculations.
For those contemplating investment positioning, observing the stock price trend stabilizing is advisable. Tesla's long-term prospects are up-and-coming, seeing substantial growth potential in various areas which extend far beyond EV production and sales. However, excessively focusing on long-term development while neglecting short-term planning may present significant challenges for stock prices in 2024.
For investors who are waiting on the sidelines, this might represent an excellent positioning opportunity.